UNM School of Law Professor Sherri Burr Authors Guide to Financial Well-Being
July 2, 2014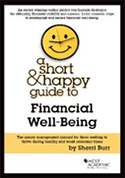 When it comes to finances, ignorance is not bliss and knowledge is golden. Financial well-being increases when individuals educate themselves about how to eliminate debt, frugally purchase cars and homes, save and invest appropriately, and plan estates.
UNM School of Law Regents Professor Sherri Burr has written a management manual for those seeking to thrive during healthy and weak economic times. A Short & Happy Guide to Financial Well-Being provides concrete steps to accomplish and secure financial well-being and guides readers through strategies for obtaining financial stability and success.

"Financial well-being is about managing the resources individuals currently possess to better support their lifestyles," says Burr. "I've written this book in a humorous manner using characters I have interviewed over the last several years to illustrate how individuals can enjoy a better life while improving their finances."
Burr teaches intellectual property law, art law, entertainment law, wills and trust, and international law. She has written twenty books and numerous scholarly articles in the area of intellectual property, art law, and international law that have been published in journals in the United States, Spain, Japan, and the United Kingdom.
A Short & Happy Guide to Financial Well-Being is available on Amazon: http://www.amazon.com/Short-Happy-Guide-Financial-Well-Being/dp/1628100397