The University of New Mexico School of Law Hires New and Visiting Faculty
August 25, 2014
Adding Expertise in Foundational Courses and to Nationally-Renowned Clinical Program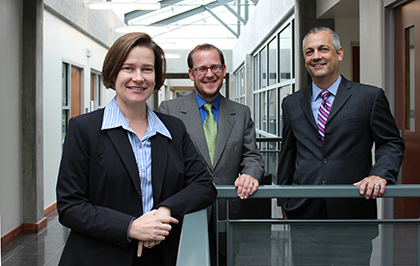 The UNM Law School recently had a very successful faculty recruitment season, resulting in the hiring of three permanent and five visiting faculty members. The new faculty will teach in the Law School's nationally ranked Clinical Program and add expertise in the Legal Analysis and Communication Program and the Natural Resources Law Program.
"We are proud to be able to grow our program at UNM School of Law at a time when many law schools are shrinking," says Professor Max Minzner, UNM Law School Associate Dean for Academic Affairs. "Our new hires provide depth in our traditional areas of strength as well as add to the scope of our program, helping continue our mission of training the future lawyers that will serve the people of the State of New Mexico."
New Faculty
Scott England, who was a visiting lecturer in UNM's Legal Analysis and Communication Program during the 2013-14 academic year, was hired for a permanent position with the legal writing team. He teaches Elements of Legal Argumentation I and II. Before arriving at UNM, England was a member of the faculty at the University of Alabama School of Law for nine years, where he taught legal writing and legislative drafting.
Prior to his teaching career, England helped draft a proposed criminal code for Illinois as a staff attorney for the Illinois Criminal Code Rewrite and Reform Commission. He also worked as a litigation associate at Chicago's Hopkins & Sutter, focusing mostly on public utility law, municipal law, and insurance insolvency law.
Mary Leto Pareja has been hired as Assistant Professor at the Law School where she will focus her teaching and research on Health Law. Pareja has been teaching at the UNM School of Law since the fall of 2005, primarily in the Business and Tax Clinic. She also has taught Torts, Small Business Law and Policy, Employee Benefits Law, Estate and Retirement Planning, and Sales of Goods. In addition, she travels to Madrid, Spain each summer as part of UNM's Madrid Summer Law Institute and teaches Spanish law students about US law and the common law legal system.
Serge Martinez has been hired as Assistant Professor and brings economic development expertise to the UNM School of Law. Previously, Martinez directed the Community and Economic Development Clinic at the Maurice A. Deane School of Law at Hofstra University since founding the clinic in 2006. Martinez also founded the first law school clinical program in Taiwan while serving as a Fulbright Scholar and Visiting Professor at the National Taiwan University College of Law in Taipei.
At UNM, Martinez will work with students in the areas of community economic development, entrepreneurship, and start-up businesses. He will also enable the School of Law to participate fully in Innovate ABQ, a collaborative initiative among UNM, its Science and Technology Center, the business community, and government.
Visiting Faculty
Professor Maryam Ahranjani from American University Washington College of Law (WCL) is visiting in Fall 2014. At WCL, she was the Associate Director of the Marshall-Brennan Program Constitutional Literacy Project for five years. At UNM, she will teach Constitutional Rights as well as Education & the Constitution, a seminar designed for the students in the Law School's Marshall-Brennan Program Constitutional Literacy Project.
Professor Lucrecia R. Jaramillo is visiting in the 2014-2015 academic year and is teaching Elements of Legal Argumentation I and II. Previously Jaramillo worked as supervising attorney at the Senior Citizens' Law Office in Albuquerque, where she supervised five staff attorneys and conducted community outreach. Her role there included substantial motion practice, legal research, and some appellate work.
Professor Kenneth Murchison is visiting the Law School in Spring 2015 and will teach Environmental Law. Murchison taught at the Paul M. Herbert Law Center at Louisiana State University for nearly 34 years, focusing on constitutional law and environmental law. He is the author of seven books and book entries and more than forty-four law review articles.
Professor Sarah Steadman is also visiting this academic year, teaching Family Law and in the Community Lawyering Clinic. Steadman has a private practice focused on elder law and disability law and has taught four semesters in the Clinic. She previously worked for a business law and estate planning firm and as a special assistant attorney general for a state agency serving low-income persons with disabilities.
Professor Scott Taylor is visiting from the University of St. Thomas School of Law this academic year. Taylor is a national authority on taxation in Indian Country and serves as a Commissioner on the Navajo and Tesuque Tax Commissions. He taught at the UNM Law School from 1982-2002 and has returned to teach a Tribal Courts Seminar, serve as Guest Editor of the Tribal Law Journal, and supervise the spring 2015 Southwest Indian Law Clinic.