First New Mexico LGBT Legal Service Day to be Held on Saturday, November 15
November 10, 2014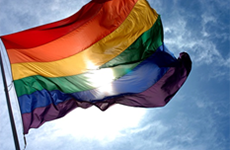 The University of New Mexico School of Law Clinical Program is pleased to announce the first New Mexico LGBT Legal Service Day. Under the supervision of Professors Sarah Steadman and Serge Martinez, students will provide free legal advice in both English and Spanish to the New Mexico LGBT community on matters such as family law, tax, name and gender designation changes, wills, beneficiary designations, advance directives and powers of attorney.
This groundbreaking community service event reflects the combined efforts of several semesters of law students committed to serving the LGBT community and the guidance and support of local LGBT advocates Adrien Lawyer, Executive Director of the Transgender Resource Center and Amber Royster, Executive Director of Equality New Mexico.
New Mexico LGBT Legal Service Day will be held from 10-2 on Saturday, November 15 at the offices of Equality New Mexico at 625 Silver Avenue SW, in downtown Albuquerque.