Roundhouse Rolls Out Red Carpet to Clinic Students
March 4, 2015 - Tamara Williams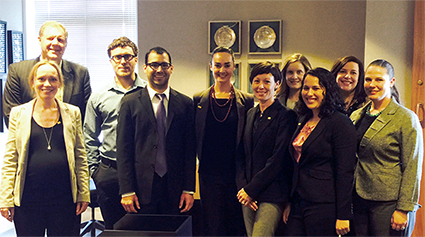 Professor Camille Carey integrated an experiential learning opportunity into her class in the Community Lawyering Clinic in mid-February.
Since her class is conducting research and advocacy in support of House Bill 268, which would allow for GPS tracking of domestic violence offenders who violate an order of protection, Carey felt a visit to the New Mexico State Capitol (the Roundhouse) was in order.
Carey said the Governor's office rolled out the red carpet for the students. "Thanks to UNM alum 2010 Deputy General Counsel Matthew Stackpole, we got a tour of the office and met with Chief of Staff Keith Gardner," says Carey. "UNM law alum DeAnza Sapien led the class on a tour of the Roundhouse, Senator John M. Sapien spoke with the class about the legislative process, and Representative Carl Trujillo met with the students about House Bill 268."
For Carey and her students, visiting the Roundhouse while the Legislature is in session was an opportunity to see the lawmaking and lobbying process in person.