High School Students Discover Diversity in the Law
April 17, 2015 - Tamara Williams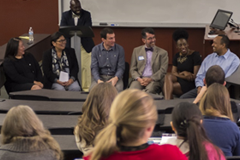 The world does need more lawyers, especially with the unique perspectives of those from underrepresented communities.
Recently the UNM School of Law created its first-ever DiscoverLaw event, part of a campaign by the Law School Admission Council to encourage racially and ethnically diverse students to discover career opportunities in law and choose a path in undergraduate school to help them succeed.
Building the pipeline
"Discovering Diversity in the Law" attracted sixty high school students and their parents from all over the state of New Mexico.
Presentations were given from the undergraduate admissions office, law school admissions, a current student panel, and a panel of legal professionals and alumni. The event also included time for attendees to interact one-on-one time with law professionals and law students.
The event was a collaborative effort between the law school's Admissions Office and student organizations, including the Native American Law Student Association, Lambda Law Student Association, the Student Bar Association, and the Women's Law Caucus.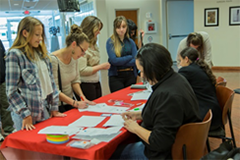 Admissions Officer Anthony Jenkins organized the event with help from law students Christine Jordan and Ashley MacKenzie. "This program would not have been possible without the collaboration of the students groups, the legal community, and the UNM Law School," says Jenkins. "The result was very successful and we plan to do similar events in the future."
Grass-roots outreach
MacKenzie says that she was attracted to the program because she "could hardly resist an opportunity that would encourage more than half of New Mexico's population from entering into the field that makes decisions on their behalf every day."
Her role was critical to attracting attendees. "I have always been more of a boots on the ground person," says MacKenzie, and proved it by sending out over 900 e-mails to help generate interest in the event.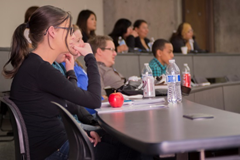 Invest in self-worth, make positive choices
Jordan says that as a Native American woman, of both Blackfeet Nation and Isleta Pueblo, she felt it was important to reach out to students in the community that may have thought a career in law might not apply to them because of previous negative experiences with the law, or that there might not be a place for them in that legal community.
She arranged a segment called, "Mistakes" to demonstrate to the students that "if they had made mistakes in the past, or if they even run into them in the future, that they should not be deterred from pursuing their life goals."
Jordan explains, "It was important to let them know that although the mistakes were common, they owed it to themselves invest in their self-worth by making positive choices."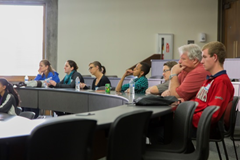 First event won't be the last
The Admissions team is already analyzing the event and seeing how to build strong relationships with high schools to have even more successful events like this in the future.
Jordan says, "I was very honored to work with passionate people who also understood the importance of telling minority students, and their parents, that not only is a career in law possible, but that the profession needs their individual perspectives."