Students Help Central American Asylum Seekers
May 1, 2015 - Tamara Williams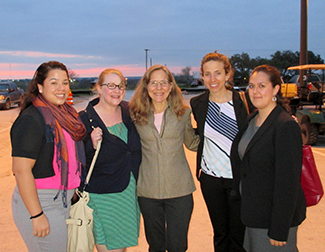 Over Spring Break, Professor Jenny Moore and four students in her Human Rights Practicum/Family Detention Project had hands-on experience in asylum advocacy at the Karnes family detention center located just south of San Antonio, TX.
Krista Garcia, Emma O'Sullivan, Elena Rubinfeld, and Bianca Smoker (left to right in photo) were aware that under U.S. policy, asylum seekers should not be detained unless they are a flight risk or a danger to the community. Nevertheless, mothers and children fleeing violence and persecution from Central America have been subject to a blanket detention policy since summer of 2014.
They volunteered because they wanted to contribute to a pro bono immigration project, observe the work of volunteer immigration attorneys, and learn about the human rights issues that arise in immigration detention.
The Human Rights practicum did all that and more.
Students trained by RAICES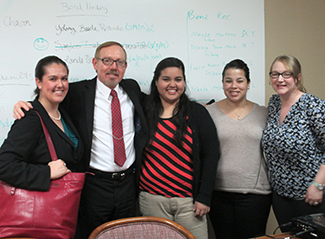 The project took place under the auspices of the Refugee & Immigrant Center for Education & Legal services (RAICES), an agency that provides free and low-cost legal services to underserved immigrant children, families and refugees, including the family detention centers in Karnes and nearby Dilley, TX. Each facility holds hundreds of Central American women and children as their cases make their way through the immigration courts.
At the RAICES office, students were trained on the data base used to track the detainees' cases and given useful insights into how to assist the mothers in representing themselves in their asylum interviews.
Team assists at detention center and in court
After training, they went to the detention center and provided translation services to the women, soothed children during their mother's interviews, met with mothers who were preparing to represent themselves pro se, prepared bond packets for other pro se detainees and much more.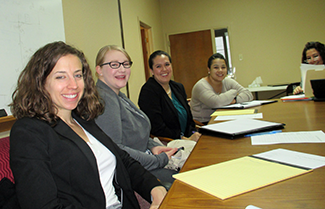 "We assisted quite a number of pro se families, and attended some hearings in immigration court, several bond hearings, one hearing for an unaccompanied child," said Moore. "In one seven-hour asylum hearing, we made a brief 'friend of the court' statement to the judge, which was helpful in the case."
Strong people, harsh surroundings
The UNM team was struck by the strength of the women and the resilience of their children in very harsh surroundings. "These are incredibly strong families who have faced unimaginable circumstances at home and made the brave decision to take an unbelievably challenging and dangerous journey," says Rubinfeld.
"I will never forget watching a women who had just arrived at the center shake as she told me the reason she was seeking asylum was to protect her daughter," says Garcia. "After she was unable to pay the extortion amount assigned to her family by the gangs, the gangs chased her daughter home, attempting to rape and beat her. This incident gave her the courage to uproot her life and travel to America for help."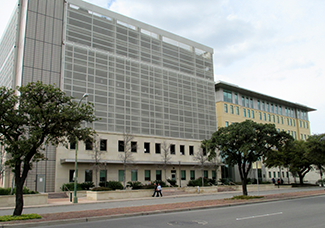 Garcia marveled that after enduring these difficult journeys, the women weren't mad or angry when faced with detention and instead were patient, poised and brave. "To seek protection, these women have to speak publically about atrocities that due to our privilege, make it hard for US citizens to believe exist," she says.
One night the team went to the Greyhound station in San Antonio and met half a dozen families who were released from the Karnes facility. They helped transport them to a community-based guest house to get a break before boarding buses to meet their family sponsors in various parts of the country.
Classroom preparation
In preparation for their experience in Karnes, the students consulted with Moore on a weekly basis and read about asylum law, expedited removal and detention proceedings, and Central American asylum claims.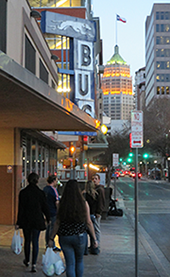 Rubinfeld says that they spent a lot of time preparing for the experience. "But I don't think anything could have truly prepared me for what it would be like to walk into a detention center and see very small children and their mothers jailed there simply because they came to this country seeking asylum."
A moving and important experience
The experience provided insights and new perspectives for the entire team. Garcia says, "The women in the centers are following Asylum law to the letter and are being treated like criminals. Until we stop letting mainstream media dehumanize innocent people, we will continue to see human rights violation on U.S. soil."
Moore says she was proud of her students, as she witnessed them responding with compassion and professionalism to the needs of the moms throughout the week.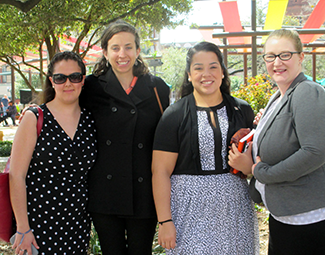 O'Sullivan says, "It was a privilege to be able to work at RAICES to help the women and children in family detention. It was a really important experience for me in a lot of ways, and I'm grateful for the opportunity." Rubinfeld agrees and adds, "I am hopeful that more law students will have the experience in the future, because it was an incredible way to learn about this important issue."