UNM Clinic Faculty Present at Clinical Legal Education Conference
June 16, 2015 - Tamara Williams


Five faculty members of the UNM Clinical Law Program gave presentations at the AALS 38th Annual Conference on Clinical Legal Education in Rancho Mirage, California, on May 7.
Exploring the 5 Intelligences of Effective Lawyers
Professors April Land, J. Michael Norwood, Aliza Organick, and Carol M. Suzuki shared insights on nurturing lawyering skills in students to approximately 30 clinicians from all over the country.
Their presentation, "Exploring the 5 Intelligences of Effective Lawyers," identified the five intelligences of an effective lawyer: Navigation, Communication, Collaboration, Exploration, and Reflection.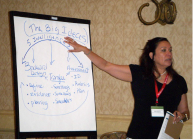 The team then explored ways to measure the five intelligences and nurture them in law students. The presentation was designed to help participants become more effective teachers of transferable lawyering skills.
Where the Jobs are Now and What They Require
Assistant Professor Yael Cannon also presented at the conference in collaboration with professors from six other universities.
Their presentation, "Where the Jobs Are Now and What They Require: Preparing Law Students for an Inter-professional World," mapped the points at which inter-professional collaboration is valuable in teaching and lawyering.
The presentation helped law professors to see the benefits—and challenges—of inter-professional collaboration in clinical teaching and explored the competencies that students gain by working inter-professionally, including skill building in such areas as professional ethics and teamwork.
Cannon discussed the inter-professional collaborative environment experienced by students through their participation in the Medical Legal Alliance in the UNM Community Lawyering Clinic. In the course of conducting legal intakes at UNM Hospital community-based health clinics, these students team up with UNM Health Sciences Center students, residents, faculty, and staff. The result is an opportunity to teach other professionals about legal issues affecting their patients and to provide legal representation to patients that holistically addresses both legal issues and social determinants of health.