UNM Law School helps make Food for Thought a smashing success
September 10, 2015 - Tamara Williams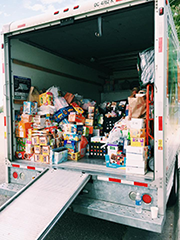 UNM School of Law graduates Mia Touchet, Rachel Higgins, Kelly Sanchez, and Wendy York have helped the Albuquerque Public Schools Title I Homeless Project for the past three years.
Each year they reach out to the Albuquerque community seeking donations for the homeless children served by the APS Title I Homeless Project. UNM Law students, faculty and staff and alumni have been active participants.
This year the team collected more pantry items, non-perishable food, hygiene products and financial donations than ever for the 3rd Annual Food For Thought APS Title I Homeless Project Food Drive on Saturday, September 5. This year's event collected a truck full of food items and raised close to $5000. The law school was an important contributor.
"Saturday was a great day to be part of our legal community and especially part of this law school," says Prof. David Stout who, together with 3L students Denise Abeita-Trujillo and E.J. John, assisted in the law school's participation. "The generosity of UNM Law students, faculty, staff, and alumni helped to make the APS Homeless Project's Food for Thought a smashing success. The law school community was a very important part of that effort."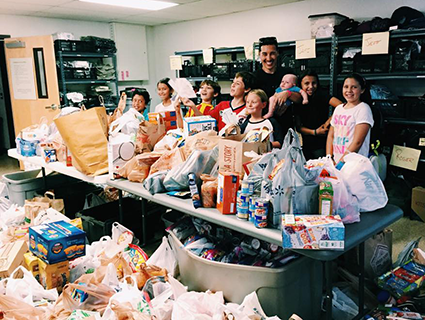 Stout says that the organizers were amazed and thrilled by the strength of the law school's participation. "They send their thanks to those from the law school who helped."
The APS Title I Homeless Project offers many services to homeless children and their families, including enrollment assistance, school supplies, school uniforms, after-school programs and more.