Professor Max Minzner named General Council for the Federal Energy Commission
September 4, 2015 - Jim Williams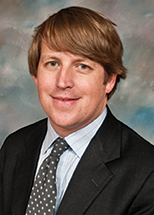 UNM Law Professor Max Minzer has been named General Council for the Federal Energy Regulatory Commission (FERC).
Minzner, who joined FERC Chairman Norman Bay's staff as an advisor this past June previously served as Special Counsel to Bay in 2009 and 2010 when Bay served as director of the FERC Office of Enforcement.
"I have known Max for almost 20 years, beginning when he was a law clerk at the U.S. Attorney's Office in New Mexico," Chairman Bay said. "I have full confidence that Max will bring a high level of excellence to his work in the Office of the General Counsel."
At UNM, Minzer served as associate dean for Academic Affairs and was awarded the 2013-2015 University of New Mexico Presidential Teaching Fellowship, a lifetime achievement award given annually to a single professor university-wide to recognize excellence in teaching. A graduate of Brown University and Yale Law School, Minzner's scholarship has appeared in the Harvard Law Review, the Texas Law Review, and the William & Mary Law Review, among other journals. Prior to joining UNM School of Law, Minzner was a member of the faculty at the Benjamin N. Cardozo School of Law.