Emily Carey, Paul Darby Hibner and Anne Minard recognized for excellence this semester
November 16, 2015 - Melissa Lobato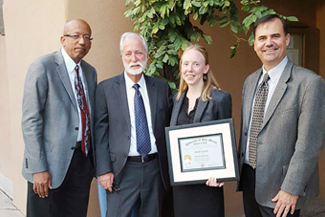 Emily Carey ('15), Paul Darby Hibner ('16) and Anne Minard ('16) were recognized for excellence with three of the UNM Law School's most prestigious awards this semester.
Carey received the Daniels Diploma, an annual award honoring graduate and former professor Justice Charles W. Daniels of the New Mexico Supreme Court.  The Daniels Diploma is awarded to the Juris Doctorate candidate who, through scholarship, conduct, and character, indicates great potential upon and after graduation and is generally awarded to the person who graduates first in the class.  It was presented to Carey on August 31, 2015.
Hibner and Minard were recognized in a dual reception celebrating both the Salazar Prize and the Minzner Award on August 27, 2015.
Hibner received the Salazar Prize, awarded annually to the student with the highest cumulative grade point average at the conclusion of the second year of law school by sponsor John P. Salazar, an attorney with the Rodey Law Firm, and his wife, Terri. The Salazar Prize honors the memory of Tibo J. Chavez, Salazar's late uncle, who inspired lives of service and excellence in the law through his many accomplishments.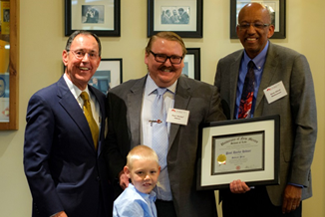 "I am inspired by what I have learned of Tibo Chavez," says Hibner. "Like Judge Chavez, I was a farm and ranch boy, active in 4-H and FFA, and Judge Chavez is a wonderful example of how you can succeed and thrive in the New Mexico Bar without giving up your roots or your culture."
Hibner adds, "Though awards like the Salazar Prize only have one name on them, they are rarely earned through the efforts of a single person. I have been amazed and humbled by all of the support I have received in my life from family, friends, and educators, and could not have won this award without them."  
Minard received the Justice Pamela B. Minzner Award for Professionalism and Ethics.
The award is presented annually to a UNM Law student entering their final year of law school who demonstrates need and an interest in professionalism and legal ethics.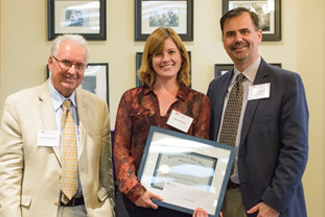 "Justice Minzner was truly a model, and this award has encouraged me to reach toward the principles she embodied, especially respect, integrity and hard work," says Minard.  
"I am grateful every day that I chose to attend law school, and especially UNM," she adds. "My professors here teach and encourage me, my fellow students inspire me, and the school provides opportunities outside the classroom that have enriched my academic and professional growth beyond expectation. In return, I have tried to contribute as much as I can to the school. I interpreted the award as validation that I have managed to convey my gratitude through my actions."