Professor Steven Homer Shares Experiences in Collection of Essays by LGBT Legal Professionals
November 3, 2015 - Tamara Williams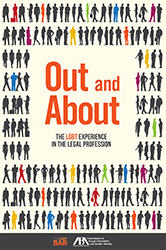 UNM Law School Professor Steven K. Homer authored an essay that has been published by the American Bar Association and the National LGBT Bar Association in the collective work Out and About: The LGBT Experience in the Profession.
The essays share the experiences of lesbian, gay, bisexual, and transgender ("LGBT") attorneys, academics, and jurists in the profession, through their own words, in an effort to educate the legal profession and the general public about this diverse group, its contributions and its struggles.
Homer's essay recounts when he started teaching legal writing at the UNM Law School almost twelve years ago and how he didn't have a sense of how "out" he could be in the classroom. He went from a tentative approach to being more open in the classroom, advising students that "authenticity is the only real path to happiness."

"I'm honored to be included in the ABA's 'Out and About' project, and particularly honored to be included alongside George," says Homer. "The project will go a long way towards reshaping the image of LGBT legal professionals."
Former UNM Law School Professor George Bach also authored an essay included in the publication. Bach's essay is entitled "Out and About Because I Can Be."  Bach says that although coming out wasn't easy, he has always felt very fortunate and never felt the need to hide his sexual orientation, even in the legal profession. "Like Steven, I am thrilled to be a part of this work," says Bach. "I've always been very fortunate in my professional life, to feel able to be out and safe and supported. I know there are many who don't feel safe. I hope this kind of work might serve to open doors for LGBT folks who need support, wherever they are in their lives."
For more information, please contact Skip Harsch, SOGI Commission Director, at Skip.Harsch@americanbar.org.