UNM Law Alumni gather in Las Cruces for reception with Dean Pareja
November 18, 2015 - Tamara Williams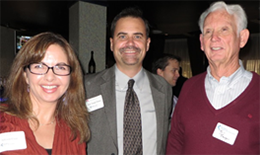 Connecting with alumni and friends around the state is a priority for the UNM School of Law deans. Dean Sergio Pareja visited with law school alumni and members of the Bar in Las Cruces at a reception on Thursday, October 29.
Approximately 60 law alumni and friends joined Pareja at the Hotel Encanto in Las Cruces to connect and network as well as to meet him.
The Law School co-hosted the event with the New Mexico Hispanic Bar Association. A one-hour CLE was offered by the NMHBA prior to the reception, and attendees learned about "Cross-Border Legal Issues: Family Law, Agricultural Guest Worker Program, Plea Agreements and Immigration Consequences."
Afterwards the group gathered in the hotel's Azul Ultralounge to learn about what is happening at the law school, how the co-deanship is working, and to chat and have fun.
The successful event is just one of many the deans are planning as a way to connect with alumni and friends throughout the state.