Judge Cynthia Fry and Bonnie Stepleton to Receive the 2016 Justice Mary Walters Award
February 2, 2016 - Audrey Jaramillo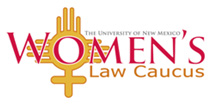 Judge Cynthia Fry and former UNM Law School Dean of Students Bonnie Stepleton have been selected to receive the 2016 Justice Mary Walters Award from the UNM Women's Law Caucus on Wednesday, February 24 at the Andaluz Hotel in Albuquerque.
Tickets are $90 per person or $600 for a table of eight. For more information, visit the Women's Law Caucus.
Each year, the Women's Law Caucus chooses two outstanding women in the New Mexico legal community to honor in the name of former Justice Mary Walters, who was the first woman appointed to the New Mexico Supreme Court. 
"The Women's Law Caucus is pleased to be honoring two excellent members of the New Mexico Bar in 2016, Judge Cynthia Fry and Bonnie Stepleton, Esq," says Dana Beyal, President of the Women's Law Caucus. "Judge Fry represents the very qualities exemplified by Justice Walters – a strong independent judicial voice, and the utmost civility and integrity. Bonnie Stepleton is well regarded in her circles as a down-to-earth person who has the uncanny ability to see the big picture all the while noting the forest and the trees. She has had positive influence on law students and New Mexico lawyers and she continues to be a support to so many. The WLC is so proud to honor these excellent women!"