Faculty share expertise at AALS Clinical Law Conference
March 9, 2016 - Tamara Williams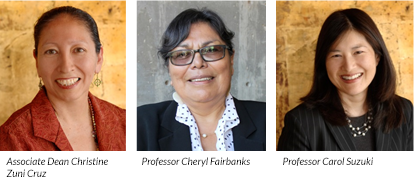 Our talented and experienced faculty are regularly called upon to share their practical expertise. Often, their unique and important perspectives result from a deep commitment to improving legal services, and expanding access to those services, for the people of New Mexico.
Associate Dean for Indian Law Christine Zuni Cruz, Visiting Professor Cheryl Demmert Fairbanks and Professor Carol Suzuki will be presenting at the Association of American Law Schools (AALS) Conference on Clinical Legal Education to be held April 30 through May 3, 2016, in Baltimore, MD.
"Given our law school's long history of having one of the premier clinical law programs in the nation and the exceptional strength of our Law and Indigenous Peoples Program, we are very pleased to know that Associate Dean Zuni Cruz, Professor Fairbanks and Professor Suzuki will be sharing their experience with clinical law professors from around the country," says Dean Sergio Pareja.
Zuni Cruz and Fairbanks are presenting on a panel
Zuni Cruz and Fairbanks are presenting on the panel, "Clinics and Communities: Exploring Community Engagement Through Clinical Education." The panel includes clinicians from the US and Canada working with Indigenous Peoples through law school clinics.
Zuni Cruz says they are sharing their work with circle dialogue.  "In the Southwest Indian Law Clinic (SILC), Professor Fairbanks has been working with the courts using peace circles, and I have been working to bridge the academy with the community through circle dialogue or talking circles," says Zuni Cruz. "We both use the circle in the classroom. The circle shifts the dynamic, whether it is in the classroom, the courtroom or the community. It is an important tool for teaching, healing and engaging the community."
SILC has been one of the leaders in community lawyering amongst clinicians, and amongst Indian law clinics, since it was established in 1994.
Suzuki is co-facilitating an interdisciplinary working group
Suzuki has been invited to co-facilitate an interdisciplinary working group on medical/legal collaborations. Along with Professor Debra Chopp of the University of Michigan Law School, Suzuki will meet daily with conference participants who teach in or are developing law clinics involved in medical/legal partnerships at their institutions.
The University of New Mexico is a pioneer in this area, having formalized a collaboration between the Clinical Law Programs and the School of Medicine/Health Sciences Center to address health-harming legal needs of communities in New Mexico affected by poverty, family instability and other social hardships in 1996.