UNM Law School jumps 11 places
March 16, 2016 - Tamara Williams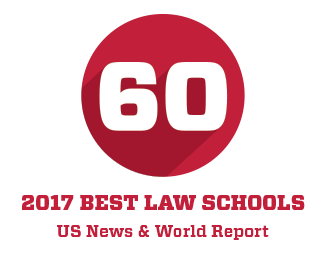 The UNM Law School jumped eleven spots to the ranking of 60th nationwide in US News & World Report's 2017 Best Law Schools.

The law school's jump is higher than any other law school in the 2017 rankings, and UNM Law ranks higher than well-known law schools such as Loyola and Pepperdine.
US News takes into account assessments by peer law schools, ratings by lawyers and judges as well as hard data and outcomes in the areas of student-to-faculty ratio, graduate employment outcomes and bar passage rates.
"The collective work of law school faculty, staff, graduates, friends and current students in positively rating the quality of legal education here and how it is delivered has also contributed to our significant rise in rankings," says Alfred Mathewson, co-dean of the UNM School of Law. "We're pleased that the UNM Law School's consistently high educational value is reflected in this ranking."
"Important decisions made by UNM Law have made an impact on the rankings," comments co-dean Sergio Pareja. "We've always been a student-centric school – we've remained small with affordable tuition, and we've focused on the longstanding core values of diversity, service to state, and that strong sense of community that continues to set this law school apart."
The UNM School of Law has a significant history as a pioneering leader in clinical legal education. US News & World Report also ranked the law school's Clinical Training Program 11th in the nation.
Hannah Farrington, Assistant Dean for Advancement, says that during a challenging time for legal education nationwide, UNM Law determined to stay focused on its mission. "We engaged in an aggressive two-year campaign of amplifying what we knew to be true -- that the University of New Mexico's law school had not only been doing it right for decades, but was also being more widely recognized for its approach and the related outcomes for our students and graduates," says Farrington.
 "The preparation, support and individualized attention UNM School of Law graduates get throughout their law school career is resulting in our noteworthy Bar passage rates and strong employment outcomes," says Assistant Dean for Student & Career Services Heather Harrigan. "UNM Law also has a very active connection to the bench and bar, offering students opportunities for collaboration, training and employment."
The UNM Law School has had a number of other accolades and rankings recently, including 6th Best Value Law School by The National Jurist; 1st for Public Defenders/Prosecutors and an "A" rating for the Natural Resources and Environmental Law program by preLaw magazine.