Intern at UN helps prosecute war crimes
April 20, 2016 - Tamara Williams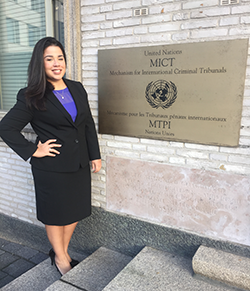 Last fall, Krista Garcia ('16) worked with colleagues from all over the world to help prosecute genocide and war crimes.
She was the first American and the only intern at the United Nations Mechanism for International Criminal Tribunals at that time in The Hague, The Netherlands.  
Placed in the office of the Prosecutor, Garcia worked with lawyers responsible for all of the residual legal activity of the International Criminal Tribunal of the former Yugoslavia and the International Criminal Tribunal for Rwanda.
Garcia's internship involved a significant amount of research, legal drafting, assisting in the creation and maintenance of case maps and legal digests, as well as attending conferences and briefing staff on material.
She learned a great deal about the breakup of the former Yugoslavia, especially the Bosnian War between 1992 and 1995, where some of the most heinous crimes of our time took place – ethnic cleansing, concentration camps, systematic rape, massacres, torture, and mass deportation of civilians.
Excelling in a diverse work environment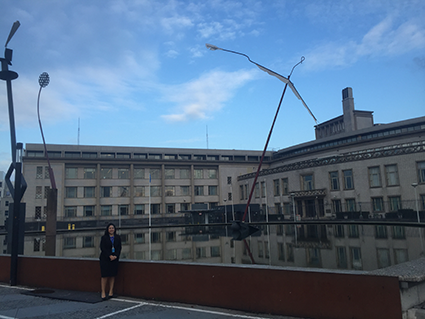 Garcia says that her classes at the UNM School of Law prepared her for the experience, especially Evidence and Trial Practice and DWI prosecution.  
"Legal analysis is so critical when dealing with such large scale complex charges," says Garcia. "UNM really prepared me to be able to analyze these complicated issues and correctly apply different international statutes, relevant case law, and different liability theories."
She was enthusiastic to see that the skills she learned at UNM were competitive to those of her more tenured international colleagues. "The legal education I am receiving here at the UNM Law School has prepared me to compete with the top legal professionals in the world."
"Working in an international field really opens your eyes to the endless possibilities that a legal education can open up for you. It is so reassuring to know that the legal education I am receiving here at the UNM Law School has prepared me to compete with the top legal professionals in the world."
Living in the international law capitol of the world
The Hague is known as the International City of Peace and Justice, home to 160 international institutions and organizations employing more than 14,000 people "dedicated to the cause of world peace."
"The Hague has such an international community that everyone was from somewhere else, but thankfully almost everyone spoke English," comments Garcia. "Our diversity created an instant community where everyone supported each other generally but there was a special connection and support from other interns."
Garcia took advantage of the many opportunities available, including nightly talks, lectures, networking, and conversing with international colleagues on diverse topic ranging from war crimes, sex trafficking, terrorism, and immigration security concerns.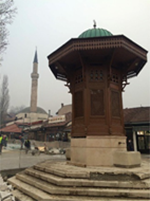 Learning through travel
While working at the UN, Garcia traveled to the sites in dispute at the tribunal, starting in Sarajevo, one of the main cities in Bosnia which suffered extended periods of siege from the Serbian forces.
From Sarajevo, she traveled to Srebrenica, where she saw many of the genocide cites. She visited the memorial center and burial grounds as well as the Dutch Bat Headquarters.
"To stand on the ground where some of the most egregious atrocities since WWII took place was an overwhelming experience," she says. "It was amazing to see the resiliency and true kindness of the Bosnian people. I was humbled to have the ability to speak to so many survivors, none of whom spoke of revenge or hate, only about learning the truth and moving forward." 
Her adventure started with the Madrid Summer Law Institute
Garcia's internship was triggered by a desire to continue her learning adventure in Europe that began by attending the UNM Law program at the Madrid Summer Law Institute, followed by participating in the Nuremberg to the Hague Study Abroad Program with Creighton Law School.
Garcia wanted to seek more opportunities to challenge herself and reached out to a few people she had met abroad to find work. Her research yielded instant results; there was an urgent opening at the MICT in The Hague. But there was one hitch: she had to get there in a week.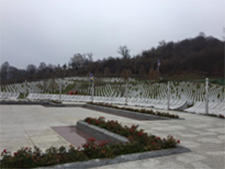 She jumped at the opportunity, receiving help from UNM Law School staff to make it happen, and started her internship on time. She is thrilled that it yielded far more benefits than she even imagined.
UNM Law School students have access to educational experiences worldwide, with faculty and staff willing to help transform these opportunities into reality, and Garcia counsels students looking to expand their horizons to "go for it!" 
Garcia will graduate from the law school in May 2016, and says her experiences abroad have led her to pursue a career in criminal prosecution and foreign policy.  With her indomitable spirit and hands-on experiences abroad, she is sure to land a position leading to the career of her dreams.