3L Bianca Smoker selected for DOJ Honors Program
April 18, 2016 - Audrey Jaramillo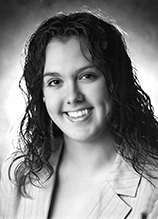 Bianca Smoker ('16) not only has graduation from law school on her mind, but a prestigious new position with the Department of Justice Attorney General's Honors Program as well. The DOJ Honors Program is the largest and most prestigious federal entry-level attorney hiring program of its kind.
Smoker was selected for a judicial law clerk position in the Executive Office of Immigration Review at the Immigration Court in Imperial, California.
She is very grateful for her UNM Law School education – especially the emphasis on writing skills and the Clinical Law Program– and for the support of law school faculty and staff. 
"The required courses I took, like Elements of Legal Argumentation with Professors Homer and Stout and Legal Research with Professor Longa, made me the best legal writer I could be," says Smoker. "Writing on the Natural Resources Journal allowed me to fine-tune my citation and writing skills in a collaborative environment.  I thought I was a good writer before law school, but these experiences all tailored my writing to the legal field."
"My experience in the Community Lawyering Clinic gave me real life clients for whom I was able to advocate with my writing skills, and focus my writing to best serve our clients," she comments.
Smoker says that two faculty in particular helped her along the way. "Professor Moore and Professor Cannon are both examples of why UNM Law is so special. Each of them helped me by acting as references and providing regular encouragement."
She is also grateful for the help she received from Student and Career Services. "Stevie Nichols gave me so much support in the weeks and months leading up to my application and interview for this position," says Smoker. "She and Heather Harrigan both sat with me in mock interviews and perused my resume to make sure everything was in the best shape possible."
As for any advice that she would give to other law students or prospective students pursuing a career in law, Smoker suggests pursuing every opportunity available. "If you don't yet know what you want to do, dive in and try to gain exposure to something you think you might like, because you won't know if it's something you'll want to do for the rest of your life until you wet your feet and are doing real work."