Prof. Suzuki appointed Chair of AALS Clinical Conference Planning Committee
April 14, 2016 - Tamara Williams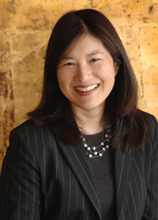 Professor Carol Suzuki has been appointed the Chair of the Planning Committee for the Association of American Law Schools (AALS) 2017 Conference on Clinical Legal Education, which will be held in Denver, CO.
Suzuki previously served in this role for the 2008 Conference.
"It is an extraordinary honor to have one of your clinicians asked to be the chair of the planning committee for the AALS clinical conference for a second time," says Associate Dean for Clinical Affairs Professor Aliza Organick. "Prof. Suzuki's appointment to the AALS's largest conference, one that is specifically focused on clinical legal education, is a reflection of the dedication, hard work, and attention to detail that describe her so perfectly."
AALS is a nonprofit association of 179 law schools whose mission is to uphold and advance excellence in legal education. The clinical conference is the largest annual meeting of an AALS section.