Former Dean and Professor Honored with Champion for Native Children Award
April 7, 2016 - Hannah Farrington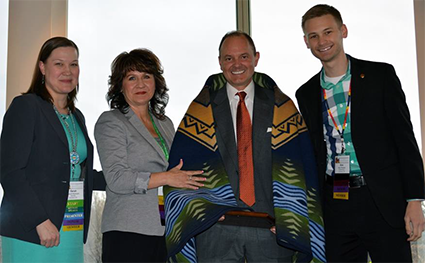 Former Dean and Professor Kevin K. Washburn has been honored by the Board of Directors of the National Indian Child Welfare Association (NICWA) with the 2016 Champion for Native Children Award.
Washburn, a member of the Chickasaw Nation, recently returned to the UNM School of Law following a three-year term as Assistant Secretary – Indian Affairs at the U.S. Department of the Interior.
The award is bestowed upon an individual who has made outstanding contributions to the well-being of Indigenous children, families, and communities in the United States.
During his time as Assistant Secretary, Washburn updated the federal ICWA guidelines to prevent efforts to evade it. This effort was the basis for the award, which was presented at the NICWA annual conference held in Saint Paul, MN.
"Under Mr. Washburn's leadership, we have seen policy protections for our children and families that I was not sure I would see in my lifetime. Kevin has been a lifelong advocate for our children, and his unwavering support for Native families has resulted in policy change and increased federal resources that will impact the well-being and community connection of thousands of Native children," says Sarah Kastelic, executive director, NICWA.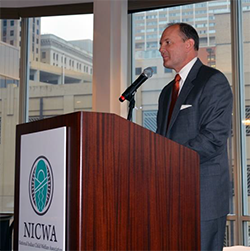 Gil Vigil, executive director, Eight Northern Pueblos, and president of the NICWA Board of Directors, shared, "We honor Washburn for his strong voice and policy directives on behalf of our Indian children and families. We lift him up as a true champion for Native children."
About The National Indian Child Welfare Association
NICWA works to support the safety, health, and spiritual strength of Native children along the broad continuum of their lives. The organization promotes building tribal capacity to prevent child abuse and neglect through positive systems change at the state, federal, and tribal level. For more information, visit www.nicwa.org.