Mitzi Vigil receives 2016 UNM Outstanding Staff Award
May 24, 2016 - Tamara Williams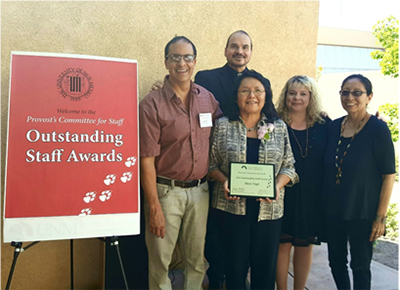 Mitzi Vigil, Administrator of the Law and Indigenous Peoples Program, is a recipient of the prestigious 2016 UNM Outstanding Staff Award from the Provost's Committee for Staff.
Awardees were honored at a ceremony on Friday, May 20, at the University Club.
"The University, the Law School, and the Law and Indigenous Peoples Program are grateful to Mitzi Vigil for her career of exceptional service at the highest levels of administrative ability, professionalism, and integrity," said Professor John LaVelle, former director of the Law School's Indian Law Program.
Vigil also received the Law School's "Outstanding Staff Award" for 2016, given by the Recognition and Rewards Committee.
At the law school awards ceremony on April 28, part of Vigil's nomination was read aloud. "She has been at the heart of building and supporting the Law and Indigenous Peoples Program; her quiet commitment and deep caring have led her to consistently make the extra effort," the nomination states. "The Law School owes her much of the credit for the Program's success; students and faculty have succeeded in ways they otherwise would not have."