UNM Law team wins first place brief in regional ABA Moot Court competition
June 13, 2016 - Tamara Williams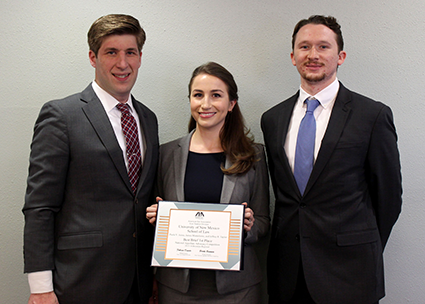 Paola Jaime ('17), James Monteleone ('16) and Jeffrey ("Randy") Taylor ('16) rise to the challenge of a difficult competition.
For weeks, the UNM Law moot court team delivered their oral arguments to federal judges, state appellate judges, and local attorneys.
Then Paola Jaime ('17), James Monteleone ('16) and Jeffrey ("Randy") Taylor ('16) went to the Brooklyn Regionals of the ABA National Moot Court Competition.
What they discovered there relieved and thrilled them. There wasn't a single question they hadn't faced before.
They also received their score for their brief. It was a 91. Half of the teams that go to the regionals get scores of 75 or lower, so they knew they were in the top tiers of briefs. But they didn't learn until the last day that they won best brief.
When they learned of their win, they felt united as a team, their hard work for months validated.
Ecstatic, proud and grateful, they thank their coach, Ed Ricco, a director in the Albuquerque office of the Rodey Law Firm, who has coached the law school's ABA moot court team for 13 years, for their thorough preparation.
Approaching it more like lawyers than law students
While others were enjoying winter break, the team conducted intensive research and spent considerable time writing and editing their brief.
Monteleone says the experience forced them all to approach the moot court brief more like lawyers than law students. "It required us to package a fairly complicated legal point of view within some narrow constraints," he explains. "That means that every issue we worked through as a team focused back on how we could make it easy for any reader to get on board with our argument. While law school students sometimes like to write to show off how much they know, this project forced us to instead focus on the bigger picture: a critical audience."
An intense oral advocacy competition
At the regionals in Brooklyn, the back-to-back oral advocacy competition was both exhausting and thrilling. The UNM Law team won the first three rounds of oral advocacy and advanced to the final round of eight to select the four teams that will proceed to nationals, but lost that round. 
"Even not advancing to Chicago was rewarding in its own way," Taylor remarks, "because as real attorneys, we'll win some and lose some, even if we feel we should have won, and we need to learn how to deal with that."
A fantastic coach who helped them find their voice
The students call Ricco a fantastic coach who let them develop their own styles. "Ed would make some substantive or stylistic critiques, but he mostly let us be ourselves," observes Taylor. "That helped us be more natural and conversational instead of sounding like robots reading from a script."
Jaime was able to overcome her fear of public speaking. "I struggled with the first few practices, but one night there was a distinct shift," she states. "The competition helped me find my voice. I learned to think on my feet, to speak clearly and accurately, and to have confidence."
Taylor adds, "I honestly think this was the most fun and most rewarding experience I had in law school."
Ricco says the students give him too much credit. "Their success on the brief was the result of their acuity in spotting and briefing an issue that many other teams missed and of their effort to produce a cohesive brief that spoke with a strong, unified voice," says Ricco.   "And you cannot 'be yourself' in oral argument, and argue well, until you have so thoroughly mastered the argument that it becomes a part of you.  So kudos to the team for rising to the challenge of this difficult competition."