"Law is always searching for the truth" and other words of wisdom
July 28, 2016 - Tamara Williams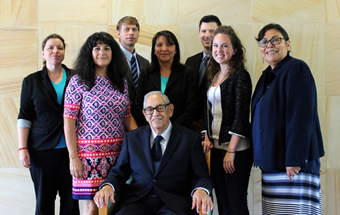 Retired District Court Judge and trial lawyer Matias Zamora and Court of Appeals Judge M. Monica Zamora ('87) shared their love of the law and tips from their extensive legal experience with students in the Southwest Indian Law Clinic (SILC).
The meeting was held at the Court of Appeals, next door to the law school.
Judge Monica Zamora first met the class when she performed the SILC swearing in ceremony in May.
She introduced the class to her father, Matias Zamora, who practiced primarily as a personal injury lawyer. Both are experienced trial lawyers and judges. The tips they shared with the students are summarized below.
Law is always searching for the truth
The law is an honorable profession, and honest lawyers always succeed. Be truthful to yourself and to your client, the judge, and the jury.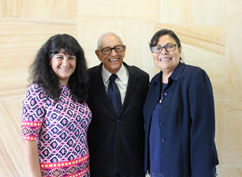 Erin McMullen ('16) said this advice resonated with her. "Mr. Zamora stressed that we are entering an honorable profession and even though we will come across attorneys that are less than honorable, these attorneys will fall by the wayside, that it is the honest ones that make it in this profession."
Know your case
Study your case and learn it inside and out. Be very thorough in preparing so you don't get caught off-guard.
Visiting Professor Cheryl Fairbanks said this advice rang true for her.  "We saw Mr. Zamora's passion for the law in how he emphasized the importance of thorough preparation," she said. "If you're stymied, roll up your sleeves and get into the case. The answers will come."
Engage with people
Use your knowledge of the case and memory instead of relying heavily on your notes for opening and closing arguments and deposition questions.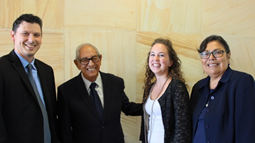 Mr. Zamora said he initially viewed jurors as "cardboard faces." When he spent time getting to know them and relate more to them, he saw them as real human beings trying to do an honest job.
Judge Zamora said she learned that lesson the hard way when she was working with her father.  She had prepared her questions for a witness she was about to depose and forgot them in her office.  As she was walking back towards the conference room her father asked her what she was doing.  She informed him that she had forgotten her questions and was headed to the deposition. He threw her notes away and told her if you don't know your case well enough to carry a conversation with this witness, then you had no business setting the deposition. "I realized how distracting it was to keep looking down at a paper with questions on it," said Judge Zamora. "The person you're interviewing looks down at your paper, too. It's much better to engage them in a conversation and then start asking questions naturally."
Be professional
Mr. Zamora had extensive experience getting along well with opposing attorneys. He recounted a story of driving to an out-of-town courtroom with the opposing attorney, sharing the same hotel, arguing their cases during the day, then going out to dinner together. If the opposing counsel is nasty, don't get caught up in it. It's important to be professional at all times.
Use your creativity and imagination
Effective advocates need to use their creativity and imagination more, especially in the courtroom. Judge Zamora shared how she effectively developed an accident reconstruction to demonstrate difficult concepts to the judge and jury.
"We don't use our imagination enough as lawyers, but it's so important," said Fairbanks.
Parting words
Afterwards, the Zamoras chatted with the students and congratulated them on their time in Clinic. Mr. Zamora concluded, "Be active in the State Bar, stay close to your law school and join professional organizations."