Madrid Summer Law Institute students attend First Lady's talk
July 15, 2016 - Tamara Williams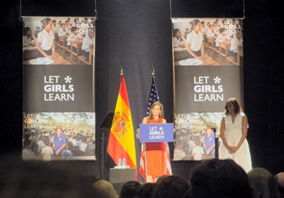 Thanks to former and returning student Gary Lee, Protocol Officer for the U.S. Department of State
Students in the Madrid Summer Law Institute (MSLI) sat in the first few rows to hear U.S. First Lady Michelle Obama speak in Madrid, Spain on June 30.
Obama spoke about "Let Girls Learn", a White House program designed to open the doors of education to more than 62 million girls around the world who lack access to basic secondary education.
The MSLI students were so close to the stage that Marissa Koskovich ('18) took a selfie with Mrs. Obama while she walked through the crowd.
The close access to the First Lady was courtesy of former UNM Law School student Gary Lee.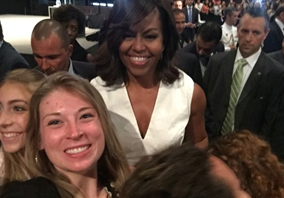 Lee attended the law school for two years, then received a full-time position with the U.S. Department of State, where he is a Protocol Officer.
He will return to finish his third year at the conclusion of the Obama administration in the Spring of 2017.
In 2014, Lee attended MSLI and took International Law and Popular Culture from Professors Nathalie Martin and Stewart Paley.
This summer, Lee was in Madrid preparing for the First Lady's visit when he reached out to Martin and Paley. The three of them got together one evening and Lee later spent an evening with students participating in the Madrid Summer Law Institute. He was able to procure formal administration invitations to Let Girls Learn for the faculty and students.
"The event was an inspiration and highlight for all of us," says Martin. "Mrs. Obama gave a heartfelt speech explaining how the lack of access to education for girls worldwide hurts men, women, towns, countries, and even destabilizes society and interferes with the possibility of peace. She urged everyone in the room and the world to use social media and other methods to educate and inform others about the problem and help change the world."