UNM Law School invites alumni and friends to connect at largest-ever State Bar Annual Meeting
July 28, 2016 - Tamara Williams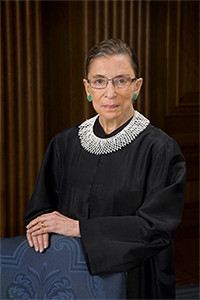 A keynote by U.S. Supreme Court Justice Ruth Bader Ginsburg is drawing record attendance at the New Mexico State Bar Annual Meeting, and the law school plans to connect with more alumni and friends than ever before.
The Conference, only open to members of the State Bar of New Mexico, is from August 18-20 at Buffalo Thunder Resort and Casino north of Santa Fe.
Justice Ginsburg will serve as the keynote speaker on Friday, August 19 at 11:00 a.m.
Four ways alumni and friends can connect with the Law School at the Conference
1. Opening Reception
Thursday, August 18, 6:00 pm – 7:30 pm
Join Dean Alfred Mathewson, Dean Sergio Pareja, approximately 50 law students, alumni and friends from around New Mexico for a UNM Law gathering during the Opening Reception. UNM Law goodies are available for the first 50 attendees, plus Deans Mathewson and Pareja will be there to meet and greet everyone. Don't miss it!
2. Attend a plenary with Professor Leo Romero, Chief Justice Charles W. Daniels and Judge Nan G. Nash
Friday, August 19, 1:30 pm
Bail Reform in New Mexico
Chief Justice Charles W. Daniels, New Mexico Supreme Court; Judge Nan G. Nash, Second Judicial District Court; and Professor Leo M. Romero, UNM School of Law
Bail reform in New Mexico has been an important issue over the last year. In this session, Chief Justice Charles W. Daniels will discuss proposed bail reform rules currently being considered as well as the pros and cons of the proposed constitutional amendment to be included on the ballot in November.
3. Attend a presentation by Professor Barbara Creel
Saturday, August 20, 9:45 am
Jurisdiction and Indian Law at the Supreme Court: A Discussion
Barbara Creel, UNM School of Law; Lynn H. Slade, Modrall Sperling Roehl Harris & Sisk PA; Paul Spruhan, Navajo Nation Department of Justice
Three leading local experts on Indian Law will discuss and de­bate the importance and effect of the U.S. Supreme Court's most recent Indian Law opinions: U.S. v. Bryant, Nebraska v. Park­er, and Dollar General v. Mississippi Band of Choctaw Indians. Presenters will explain the importance of these three decisions, as well as other recent and significant cases which are crucial to all practitioners, whether in criminal law, civil litigation or advice on business transactions on Tribal land or with Tribal entities.
4. Attend a presentation by Professor Alex Ritchie
Saturday, August 20, 1:30 pm
Environmental Regulation of the Oil and Gas Industry
This session will provide an overview of recent developments in environmental regulation of the oil and gas industry. Professor Ritchie will explain the major regulatory regimes governing en­vironmental regulation of the oil and gas industry, discuss chal­lenges that environmental regulations impose on the industry and identify potential paths forward.
5. Stop by the Law School's booth
The law school will have a booth during the entire conference. Alumni and friends are encouraged to visit us and see some surprises we have in store for you!