Amicus Brief by Professor Jim Ellis and team facilitates Florida reversal on death penalty case
September 22, 2016 - Tamara Williams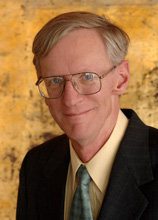 Distinguished Professor Jim Ellis  has consistently worked to keep inmates with intellectual disability off death row. In 2014, he and his UNM Law team filed an amicus brief in support of Freddie Lee Hall in Hall v. Florida.   [See Amicus Brief by UNM Law Team Plays Key Role in U.S. Supreme Court Decision.]
In 2014, using Ellis' brief, among other sources, the U.S. Supreme Court held that Florida's refusal to accept the scientifically-necessary standard error of measurement in IQ testing would allow people with an intellectual disability to be executed. This was contrary to the ban set out in Atkins v. Virginia, a case Ellis successfully argued in 2002.
Now, on a remand from the Supreme Court of the United States (SCOTUS), the Florida Supreme Court felt that in light of the SCOTUS' instruction, Mr. Hall's evidence of intellectual disability was so strong that it felt no need for further fact-finding and ordered the lower court to impose a life sentence.
Dan DeWitt, Hernando Times columnist, wrote about the reversal in State Supreme Court resets rules for judging intellectual capacity in death penalty cases, published in the Tampa Bay Times on Sept. 8.
DeWitt interviewed Ellis for the story, who said the state court has …"seriously gone about its review of the evidence in Mr. Hall's case," and that the Florida court had followed the U.S. Supreme Court's ruling faithfully that "intellectual disability is not a number but a condition."