Over 150 attend the 2016 Scholarship Donor & Recipient Luncheon
September 30, 2016 - Audrey Jaramillo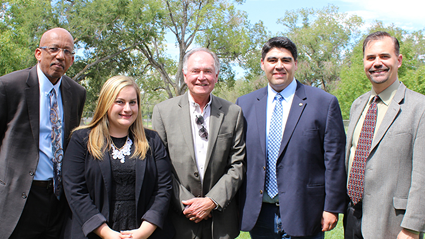 Every fall, UNM Law's scholarship donors and their student recipients meet and express their support and gratitude for one another over lunch on the back patio.
This year's luncheon featured the Judge J.V Gallegos Memorial Scholarship, which was established to honor the life of Judge J.V. Gallegos and his love for the law by his son, former Regent J.E "Gene" Gallegos and his wife Felice.
Regent Gallegos ('60) spoke at the gathering, sharing touching memories of his father's life and legal career and why creating the scholarship in his memory was important to him. Two other scholarship recipients, Amanda Miera ('18) and Tess Williams ('17) spoke as well, voicing their gratitude and appreciation.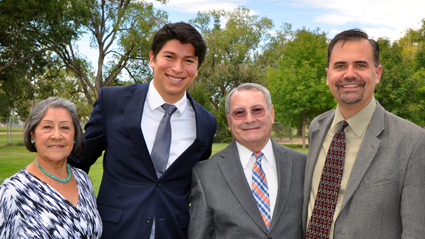 Dean Alfred Mathewson and Dean Sergio Pareja also spoke, recognizing the recipients for all they have accomplished, and expressing gratitude towards the donors and all that they do to support the UNM School of Law.
Pareja says that the annual luncheon is important because it allows our students to interact with the law school's donors, and allows us to thank them for all that they do.
"No words are adequate enough to express the depth of our appreciation to our alumni and friends whose generosity to the law school provides opportunities, support and resources that forever change the lives of our students," said Mathewson.