UNM Law alumni and students work to secure release of Guantanamo detainee
September 13, 2016 - UNM School of Law

Editor's Note: This story was written before the release of 15 captives in August.
Efforts highlight students' unique opportunities in national security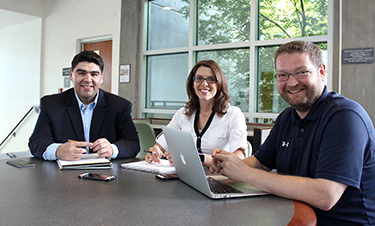 Of the roughly 780 post-9/11 detainees who have been held in U.S. custody at Guantánamo Bay, 76 remain. That number may be one less, thanks to the efforts of two distinguished UNM Law graduates and four current UNM Law students.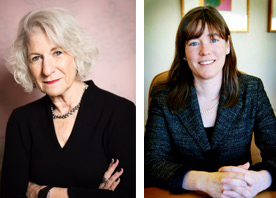 Nancy Hollander ('78) and Theresa "Teri" Duncan ('00) represent Mohamedou Ould Slahi, who the United States alleged to be an al-Qaeda operative. In his bestselling book, "Guantánamo Diary," Slahi recounts his experiences as a detainee, from his arrest in Mauritania to his detention in Jordan and Bagram Air Base in Afghanistan, and ultimately to Guantanamo. Slahi has now been in Guantanamo for almost 14 years.
In June, however, Slahi had a hearing before a Periodic Review Board ("PRB"), which determines whether the continued detention of a detainee is necessary to protect the national security of the United States. In preparation for Slahi's hearing, Hollander and Duncan wondered, why had the PRB recommended transfer in some previous cases, but not in others? Any such information could help Hollander and Duncan convince the PRB that Slahi does not pose a threat warranting any further detention.
Students research 29 PRB cases
As it turns out, Duncan was teaching a litigation course at the Law School at the same time, and just a floor above, Professor Dawinder "Dave" S. Sidhu was teaching a national security course. Before their classes one day, Duncan and Sidhu were catching up when the conversation turned to Slahi's hearing. They thought, perhaps some of Sidhu's students could analyze the past PRB hearings, determine what swayed the panel members, and arm Hollander and Duncan with that information. Sidhu began his class session by raising this opportunity with his students.
Alan Heinz ('17) was one student who participated in the PRB project. "We all jumped at the chance," Heinz recalls, because "there are precious few opportunities to have a real positive impact on the lives of others and many of us came to law school exactly because we sought to have such an impact."
Heinz and his fellow classmates Daniel Enriquez, Sarah Mahoney, and Jason Patton studied twenty-nine PRB cases, reviewing the government's allegations, statements from the detainee's counsel or representative, statements from the detainees, transcripts of the unclassified portions of the PRB hearings, and the PRB decisions. In their analysis, the students extracted from the twenty-nine cases common factors and considerations that were important or influential to the PRB.
The students quickly bonded together. Enriquez called it a "great group," noting that, "The closest we came to any disagreement was over who got to analyze extra cases, because everyone wanted to shoulder the extra burden," Heinz added.
PRB decides Slahi should go free
Duncan and Hollander received the group's findings and headed to the PRB hearing.
Last month, the PRB announced its decision: Slahi should go free.
"Knowing I had a part in the process is an incredible honor," Enriquez shared. "I take pride in this result," Heinz echoed. Duncan and Hollander were quite pleased with the students' contributions. "The work by the law students was very helpful," Duncan appraised. "The students did a great job analyzing the materials and providing us insight into board proceedings."
Beyond the result, the students walked away with an appreciation for the protections afforded to detainees. "One common theme throughout the assessment that shined brightly in my eyes was the continued respect for fundamental rights, human dignity, and accountability," Mahoney reflected. "Deep in my soul, I am truly proud of how America chose to handle the detainee release reviews - even standing before our enemy, we continued to promote respect, leadership and integrity," she offered.
Unique opportunities in real-world national security cases
The students valued the practical nature of the experience. "As a law student, I feel that participation in a real world case is the best way to instill ethical and legal reasoning principles in our thought processes," said Mahoney. "Real world cases allow law students to get their hands dirty while they are still in the nest, so to speak, and are surrounded by esteemed professionals to guide them along the way," she added.
Heinz agreed: "Law school tends to focus on the esoteric and abstract." But the PRB project involved "essential" professional skills that have direct application to legal practice. "I'm doing my first internship this summer, and can now more clearly see how directly on-point this project was," Heinz recognized.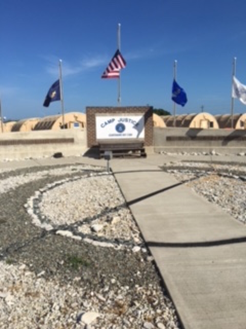 Similarly, Enriquez stated that, "So much of the work done in law school is from a textbook and there are few, if any, real world impacts to be made. Learning that the work we do really matters, and at times has the eyes of the world on it, is a valuable lesson that we were incredibly fortunate to learn as students."
The practitioners shared the students' understanding that experiential opportunities are vitally important for law students. "Real-life matters provide opportunities for students to apply what they have learned, which deepens their understanding of legal principles and the role the law plays in shaping our world," Duncan stated. "It also helps students identify strengths, weaknesses and interests while they are still within the protective environment of academia. This allows students to focus their studies and better prepare for the transition to their chosen area of law."
To be sure, the PRB recommendation does not guarantee Slahi's release. According to Duncan, the Departments of State and Defense now must identify a proper place, outside of the United States, to transfer Slahi, a process that includes discussions with possible host countries. "We do not yet know when or where Mr. Slahi will be released, but are working to ensure that the Departments of State and Defense act expeditiously and fairly," Duncan asserted.
Rare opportunity to be legal observers at Guantanamo
The PRB project is but one way in which UNM Law students are engaged in national security law and the legal process at Guantanamo Bay. Thanks to the efforts of Sidhu and David Iglesias, '84, UNM Law is one of only a handful of educational institutions worldwide that can send students to serve as legal observers of the military commissions at Guantanamo. This program started in 2013 and, since then, close to a dozen UNM Law students have visited Guantanamo.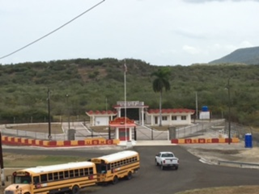 Lindsey Goodwin ('18) just returned from Guantanamo this summer. She attended the hearings of the 9/11 detainees, the most prominent of whom is Khalid Shiek Mohammad. "As I'm going into my 2L year, the experience really helped me to better realize what type of work I want to do moving forward in my career," Goodwin observes. "I feel very lucky to go to the UNM Law School, where such an opportunity was available to me."
Second year student Jacyln Page just returned from Guantanamo this month. "I now come out of this experience with a greater understanding of what justice is and what it should be," she shared.