Christy Chapman advocates for indigenous health at prestigious international conference
November 10, 2016 - Tamara Williams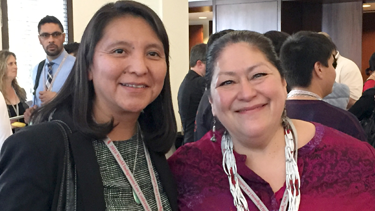 Born and raised in the Pueblo of Zuni, Christy Chapman was a public health nurse for several years. She hoped her law degree would open many doors to empower others.
Chapman will graduate in December 2016 and already she is empowering others by being a voice for her community. This October, she advocated for indigenous health at a prestigious international conference.
Earlier this year, Chapman submitted a paper to the World Indigenous Law Conference. Her paper, "Black Water - The Devastating Effects on the Core Values of the A:shiwi (Zuni)," was selected from more than fifty submissions.
The conference, which is held every two years, was hosted in North America for the first time this year, and Chapman went to Irvine, CA to give her presentation.
Two hundred people attended, many of whom were the "movers and shakers in the Indigenous International realm." Deborah Sanchez, ​ a Los Angeles Superior Court judge, was one of the keynote speakers. "She gave one of the most powerful speeches; it gave everyone goosebumps," says Chapman. "I was honored to have a photo taken with her."
Chapman credits the Pre-Law Summer Institute, an intensive two-month program that prepares individuals for the rigors of law school, for paving the way for her to become an advocate.
"While Christy was a student in the Pre-Law Summer Institute, she demonstrated the type of leadership and dedication that is required of an effective advocate," said Helen B. Padilla, Director of the American Indian Law Center, Inc., which runs the Pre-Law Summer Institute. "We are proud, and not surprised, that her paper was accepted for presentation to such an important international group of indigenous leaders and lawyers."
Padilla went on to note that, "Christy's background as a nurse, combined with her pursuit of a law degree, makes her perspective and work on issues of tribal health and welfare significant to the international conversations regarding indigenous health."
Chapman says the law school challenged her by using the medium of writing to make a difference in the lives of those she has come to serve. "I drew on the many different classes offered at UNM from Indigenous Peoples Law to criminal procedure and health law, and all have proven beneficial for finding ways to improve my own community," says Chapman. "Taking part in the Southwest Indian Law Clinic and the DWI/DV prosecution clinic gave me the push I needed to get comfortable with my own voice to be a voice for others."
"I am very grateful," she adds. "Elah'kwa! (Thank you)."