Javier B. Garcia ('17) wins UNM's Sarah Belle Brown Community Service Award
November 16, 2016 - Tamara Williams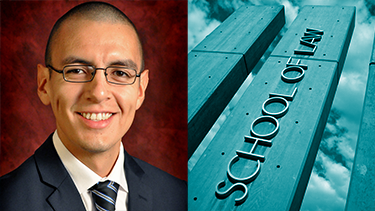 Javier B. Garcia ('17) was recognized for his dedication to volunteerism and improving UNM and the greater New Mexican community.
Garcia is the student winner of UNM's 2016 Sarah Belle Brown Community Service Award.  The staff winner is Janet "Jaye" Francis and the faculty winner is Frances Vitali; they each receive a cash award of $1,500, while Garcia receives a $1,500 scholarship, all generously endowed by former UNM Regent and Anderson School Dean Doug Brown and his wife, Sarah Brown.
Garcia's work with the American Civil Liberties Union, the Southwest Indian Law Clinic, and the Marshall–Brennan Constitutional Literacy Project—a project that educates high school students on constitutional rights—are just a few examples of his dedication to legal protection of those in need.
"What inspires me to volunteer is my interest in providing direct services to immigrant children and their families in New Mexico," said Garcia. "Whether it's preparing high school students for a moot court competition, helping them apply for immigration relief, or working to vindicate their constitutional rights, I love the opportunity to work directly with individuals."
Preston Sanchez, Co-director of the law school's Marshall Brennan Program, says that Garcia has been with the Marshall Brennan Project since his first year in law school. "Javier helped deliver the 'Know the 4th Presentations' to various groups of students and this year he's teaching a class to high school seniors this year, all of whom were his freshmen students four years ago," says Sanchez. "He's a great teacher, friend, and mentor to all of his students. I have high regards for the work that he does for his community, and I have nothing but the utmost respect for the humbled individual that he is! Cheers to Javier!"