Professor Kevin Washburn discusses President Obama's commitment to Indian Country
November 9, 2016 - Tamara Williams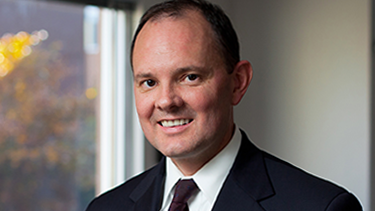 Regents Professor Kevin Washburn knows the Obama Administration from the inside, having served as the Assistant Secretary of Indian Affairs from October 2012 through December 2015.
Alysa Landry, a reporter for Indian Country Today, recently contacted Washburn to ask his views on Obama's attitudes toward Native Americans, challenges and triumphs regarding tribes, and the federal laws and Indian policies enacted during their terms in office.
The headline of her article, Barack Obama: 'Emotionally and Intellectually Committed to Indian Country' is a direct quote from one of Washburn's remarks.
Landry quotes Washburn several times in the article, including the following:
"Early on, as a candidate, Obama identified Indian country as something that was important to him, an area where he personally wanted to make a difference," said Washburn, a law professor at the University of New Mexico and a member of the Chickasaw Nation of Oklahoma. "From the beginning, we saw that he was intellectually committed to Indian country. By the end, he was emotionally committed. I don't think we've seen that before."
Throughout the article, Landry refers to Washburn's examples of how the Obama administration helped improve Indian country and begins her conclusion with another quote:
"Virtually every agency improved somehow in what it did for Indian country," Washburn said. "By the second or third Tribal Nations Conference, secretaries knew they had to deliver. That made them keenly aware of Indians. The conference drove policy like nothing has before."