Israel Chavez and Alexis Shannez Dudelczyk receive Family Law Scholarships
January 18, 2017 - Tamara Williams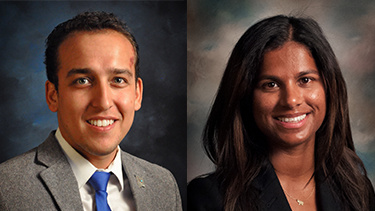 Israel Chavez (Class of '19) and Alexis Shannez Dudelczyk (Class of '18) recently were encouraged to pursue their interest in family law issues in New Mexico.
Each was awarded a Family Law Scholarship from the Family Law Section of the State Bar of New Mexico.
"Family law is an incredibly important area of the law, particularly in a state that experiences incredibly high rates of child hunger and overwhelming poverty," says Chavez. "I understand that in a state that is comprised of a minority majority population, family plays an important role in understanding that diversity and embracing it.  The youth are the future of our state and they deserve impassioned advocates on their side fighting for what is in the best interest of the child. Families come in all shapes and sizes and I believe there is real opportunity for positive change through family law."
Dudelczyk says families have always been of significant interest to her, in large part because of her unique upbringing. "At the age of five months, I was adopted from India by two loving parents in Santa Fe," she explains. "As a result, I am curious about how people, biologically or not, end up together and form their values, identities, and fates. I have a deep appreciation for the critical role the family unit, with its nuanced dynamics, plays in people's lives. This curiosity serves as a catalyst for my desire to work with families."
Both students are grateful to receive the Family Law Scholarship.
"I am humbled and honored to receive the recognition for my credentials and past dedication to youth in New Mexico," says Chavez. "I am committed to continuing my dedication to the next generations of New Mexicans through advocacy and, God willing, as an attorney when I graduate."
Dudelczyk says she is honored and thrilled to receive the scholarship. "To be recognized for my interest in family law makes the scholarship that much more special, and one for which I am eternally grateful." She plans to become an effective legal advocate for children and families in New Mexico.