Law and Indigenous Peoples Program offers new Tribal Appellate Advocacy seminar
January 21, 2017 - Tamara Williams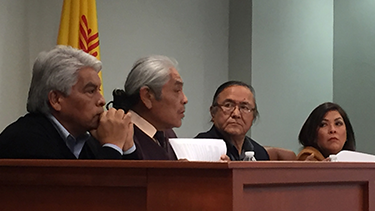 Four prominent tribal jurists and officials served as the appellate panel for the final argument in the Tribal Appellate Advocacy drafting seminar, offered for the first time in the Fall 2016 semester by the Law and Indigenous Peoples Program.
The class was taught by Professor Christine Zuni Cruz.
Three who served on the panel are UNM Law School alumni: Emeritus Chief Justice Robert Yazzie (Navajo Nation Supreme Court; Class of '82), Judge William Bluehouse Johnson (Pueblo of Acoma Tribal Court and Co-Chair, New Mexico Tribal-State Judicial Consortium; Class of '90), and Francine Jaramillo (AILC and former Pueblo of Isleta Court of Appeals Justice; Class of '08).
Regis Pecos (former Governor, Pueblo of Cochiti) also served on the panel.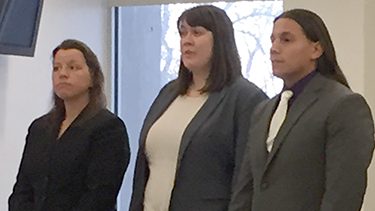 In addition, two practicing alumni served as coaches for the student teams: Michael Barthelemy, Esq. (Class of '82) and Samuel Winder, Esq. (Class of '88).
The students in the inaugural seminar were Erin McMullen (Class of '17), Tess Williams (Class of '17), John Morseau (Class of '18), Robert Zamora (Class of '17), David Jenkins (Class of '17) and Adam Oakey (Class of '17).
The tribal constitutional law problem the students argued was one involving tribal official and legislative immunity, tribal constitutional due process, and equal protection protections and remedies.
 "The tribal constitutional law case the students worked on was complex, involving a constitutional law issue of first impression for the court," said Professor Kip Bobroff, Director of the Law and Indigenous People Program. "The students did an excellent job of analyzing the issues and arguing the case before a panel of seasoned tribal jurists."