The Ramah Case: A Moderated UNM Law School Conversation
February 7, 2017 - Tamara Williams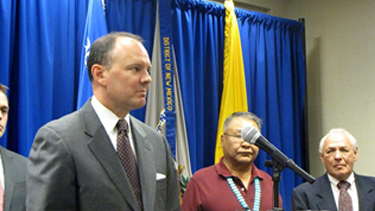 The University of New Mexico School of Law will host a public, moderated conversation about Ramah Navajo Chapter v. Jewell, the $940 million landmark settlement involving hundreds of tribes, at 5:30 pm on Thursday, February 23, 2017 in the Forum at the Law School, located at 1117 Stanford NE.
UNM Law School Professor Kevin Washburn will moderate the discussion with Michael P. Gross and Bryant Rogers, who represented the Ramah Navajo Chapter and Oglala Sioux Tribe in New Mexico. Washburn is a former dean and former Assistant Secretary of the Interior for Indian Affairs.
Gross as lead class counsel and Rogers as co-class counsel filed the case in the New Mexico Federal District Court in 1989, later joined by Anchorage lawyer Lloyd B. Miller as co-class counsel on a related claim. The three discrete claimed damages for breach of contract under the 1975 Indian Self-Determination Act. The Class now contains 700 entities including virtually all recognized Indian tribes and many of their subordinate entities. Their case was vigorously opposed by the Interior and Justice Departments, leading to two decisions in the Class's favor in 10th Circuit (1997 and 2011) and a victory in the Supreme Court (2012). Their last appeal was settled in late 2015 for nearly one billion dollars bringing the total with two previous settlements to over $1.1 billion. Not one class member objected to the last settlement of nearly one billion dollars or the attorney's fee request.
Washburn helped achieve settlement while he was Assistant Secretary for Indian Affairs. The settlement was paid to 645 tribes and tribal entities nationwide in August 2016.
Gross, Rogers and Washburn will discuss their personal stories with the case, highlights of the legal process, the steps leading up to the settlement, and a look at the future. Washburn has said he "was always pleased when lawyers are the heroes" and this case is a good example of the difference a lawyer can make, in this instance, for tribal sovereignty. 
This program has been approved by the New Mexico Minimum Continuing Legal Education Board for 1.0 General hours of credit.
The discussion is free and open to the public; parking is free in the Law School "L" parking lot starting at 4:00 p.m. The moderated discussion will include taking questions from the audience. A reception will follow the presentation.
Early registration is advised; please do so online at gotounm.edu/ramah or by contacting Carmen Rawls at 505.277.8184 or Rawls@law.unm.edu