Small Clinic Section. Big Impact. Real Perk: Providing expertise on timely environmental issues.
March 3, 2017 - Tamara Williams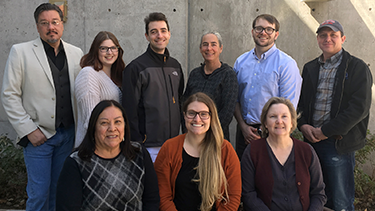 The newest section in the UNM School of Law's mandatory Clinical Law Program—in which students represent clients with supervision by law faculty—is hitting the ground running.
Starting January 2017, the Natural Resources and Environmental Law (NREL) Clinic has already filed an amicus brief in a federal case, drafted a report and testified before the UN Special Rapporteur, and represented clients on a myriad of issues. These issues include drafting tribal environmental laws, permits, water rights declarations, wildlife policies, and training materials for acequias.
NREL Clinic files amicus brief to support tribes in legal challenge to the Dakota Access Pipeline
On February 21, the NREL Clinic filed an amicus brief supporting the Standing Rock Sioux Tribe's motion for summary judgment seeking a review of the U.S. Army Corps of Engineers' issuance of an easement permit for the Dakota Access Pipeline. The NREL Clinic represented itself, the Pueblo of Pojoaque, and the Association of American Indian Affairs.  The amicus brief provided the court with the principles of the tribal trust doctrine, and urged the federal district court to employ the injunctive relief standard required in administrative actions.
The NREL Clinic's brief has been mentioned in several news articles, including E&E News, Turtle Talk, and Indianz.com.
NREL Clinic presents report to UN Special Rapporteur
On February 25, United Nations Special Rapporteur on the Rights of Indigenous Peoples, Victoria Tauli-Corpuz, visited the UNM School of Law as part of national consultations examining impacts on indigenous peoples by energy development.  (See news story.)
The NREL Clinic presented a report  for the Special Rapporteur on "Energy Development Impacts on Indigenous Peoples." The report states that energy development has not been sensitive to Native cultural values.  Further, the exploitation of natural resources results in long-lasting ecological damage and adverse health effects. 
The report also points to positive impacts, including an exercise of tribal sovereignty by raising revenue, providing employment, and creating new business opportunities.
Currently, the NREL Clinic is drafting an amicus brief for the NM Acequia Association.  It looks forward to working on other environmental and natural resources matters throughout New Mexico.