Deshawnda Chaparro and Lenaya Montoya receive Summer Fellowships
May 17, 2017 - Tamara Williams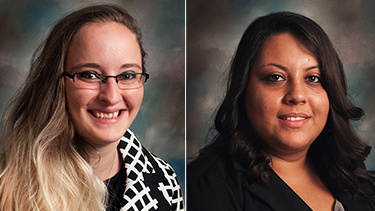 The State Bar of New Mexico Young Lawyers Division awarded 2017 Summer Fellowships to Deshawnda Chaparro (Class of '18) and Lenaya Montoya (Class of '18).
The Young Lawyers Division received several excellent applicants for this year's fellowships. They were impressed with Montoya's and Chaparro's applications and commended them for their dedication to public service.
Chaparro will be working at the Institute of Legal Training & Instruction. Also called, "Instituto," the organization provides immigration consultations, legal counsel, and direct representation to immigrants around New Mexico. Currently, there are five rural clinics planned for the summer, including Gallup, Española, Ruidoso, Clovis, and Taos.
Montoya will be working at the New Mexico Department of Health Office of General Counsel, assisting in numerous projects. She hopes to learn more about how New Mexico substance abuse treatment centers are regulated. "I would like to thank the Young Lawyers Division of the State Bar for choosing me to receive this fellowship," said Montoya. "I am honored to receive this type of support, which will help me greatly this summer."