Small School. Big Honor. Jazmin Irazoqui-Ruiz ('17) to deliver keynote address at UNM Raza Graduation
May 3, 2017 - Logan Glasenapp and Tamara Williams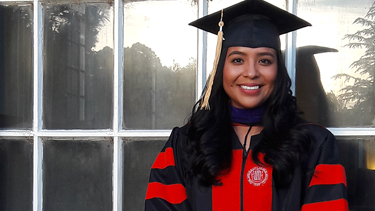 Inspired by the experiences of the speakers at the UNM Raza Graduation ceremony celebrating her undergraduate degree, Jazmin Irazoqui-Ruiz ('17) wanted to do the same for the next group of students when she finished law school.
She was encouraged to see herself and her community represented by these individuals in important professional fields and to learn that she shared many of the same experiences the speakers highlighted in their speeches.  
 "When I finish law school, I want to inspire the next group of students by talking about my undocumented experience as a law student," she said to herself. "I want to let other undocumented and DACAmented students know they are not alone and that our dreams are achievable."
 Irazoqui-Ruiz will have the opportunity to do just that. She was nominated by a member of the UNM community and selected by El Centro de la Raza to deliver the keynote address at the 25th annual UNM Raza Graduation on Friday, May 5 from 6:00-8:00 pm at the Johnson Center.
Irazoqui-Ruiz says she is incredibly humbled by this honor and has been working on her speech for a while. "My talk will focus on deconstructing the current institutionalized oppression we experience as minority students, on recognizing those who have helped us during our journey, and on advocating for our communities in our work," she says.
Quiana Salazar-King, Assistant Director of the UNM Law School Office of Student & Career Services, will place the stole on Irazoqui-Ruiz at the ceremony. "Jazmin exemplifies hard work, determination, and perseverance!  She is truly living a life that exercises the fullness of her abilities and skills," says Salazar-King. "She serves as an inspiration to us all. She has made tremendous contributions to the law school and will be a powerful legal advocate!"
Please join us in congratulating Irazoqui-Ruiz on being selected for this honor and on finishing her studies at the UNM School of Law.