Regents Professor Kevin Washburn inducted into Chickasaw Nation Hall of Fame
June 20, 2017 - Tamara Williams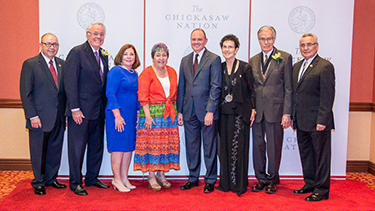 On Thursday, June 1, Regents Professor Kevin Washburn was one of five honorees inducted into the Chickasaw Hall of Fame.
Induction into the Chickasaw Nation Hall of Fame is a high honor bestowed upon Chickasaw citizens who have distinguished themselves through outstanding contributions to the Chickasaw Nation and our communities.
Chickasaw Nation Gov. Bill Anoatubby led the ceremonies for the Chickasaw Hall of Fame.
"All of tonight's inductees rose to positions of leadership and displayed their desire to serve those around them in their own ways. They are an inspiration to all of us and an example of how to live our lives with purpose and in the service of others," said Anoatubby.
Washburn was honored because his prolific writings and congressional testimony have had a profoundly positive influence on public policy in both criminal law and gaming in Indian Country.
In 2012, he was nominated by President Barack Obama to be the assistant secretary for Indian Affairs and unanimously confirmed by the United States Senate. He served in that position until Jan. 1, 2016, when he returned to the University of New Mexico as a faculty member.
"Among the best and brightest of this generation of American Indian Law experts is Mr. Kevin Washburn, who gravitated toward law to better serve the Native American community," Anoatubby said. "Mr. Washburn, today we recognize you for pursuing your passion for American Indian law and rising to the highest levels of government, where you advocated for the rights of Native Americans across this country."
Washburn said he was humbled as he accepted his award.
"When I got a call from the White House asking me to be assistant secretary for Indian Affairs, my first call was to Gov. Anoatubby, because I really had no business being the secretary for Indian Affairs unless my own tribe supported me," Washburn said.