Professor Ted Parnall's new memoir recounts dedication to UNM School of Law and to legal education worldwide
July 20, 2017 - Tamara Williams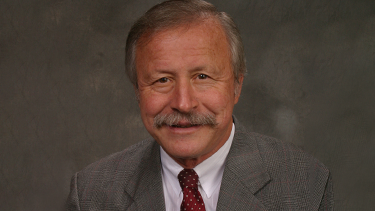 UNM School of Law former Dean and Professor Emeritus Ted Parnall (`67) recounts his upbringing, more than three decades at the law school, and international work in a very personal memoir called, "Life and Law in Interesting Places: An Improbable Journey."
The book is "the story of a lawyer/professor and his family as they move through sometimes troubled areas of the world, always finding friends, shared values, and a sense of optimism."
Parnall joined the UNM School of Law faculty in 1970 and was Dean from 1986-91. He is the only UNM law alumnus to serve as both a professor and dean of the School of Law. Parnall has trotted the globe for his entire legal career to advance legal education and legal systems in developing countries.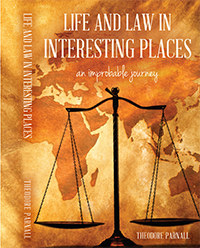 "The past 50 years could not have been more interesting for me and my family," says Parnall. "They included interactions with  remarkable personalities in many unusual circumstances: clinking glasses with the Red Prince and Kaysone in Laos, dining with a member of the Derg in Ethiopia after seeing Haile Selassie arrested and put into a Volkswagen, celebrating President Tubman's birthday in Liberia, along with his unfortunate successor, William Tolbert, meeting Indonesia's President Suharto in the last year of his regime, working with Mr. Vu Mao as he reshaped the legislative system in Hanoi, and working with the members of China's Committee to Restructure the Economic System on the eve of that country's economic resurgence. It was a privilege and an honor to have met these people who made History and, no less so, to have worked with so many who, like myself, simply moved through it."
Former Dean and Professor Emeritus Leo Romero is a good friend of Parnall's and is mentioned several times in the memoir. "This book answers the question that so many Law School colleagues, alumni, and students asked over the years: 'Where is Professor Parnall now and what is he doing?'  The Law School community will find Ted's stories about the law school from his days as a student, professor, and dean to be both amusing and a testament to his affection for the school," says Romero.
Parnall's memoir begins with his family's immigrant origins and his early years in the rural south valley of Albuquerque. Next it describes his "resolute search to understand the impact of law on diverse cultures" as a long-term resident legal adviser in developing countries. Parnall has spent most of the time in Southeast Asia, Liberia, Laos, Afghanistan and East Africa and has an international reputation for his expertise and respect, his vision and his ability to get along with people.
The book also relates "events of more than 30 years as a member of the faculty at the University of New Mexico School of Law, including five years as Dean of the school. During that five-year period, New Mexico adopted its unique method of selecting judges, and the book provides insights into the New Mexico legal community and its actions to assure a strong judiciary. Parnall's respect and admiration of his colleagues at the law school, the New Mexico Bench and the practicing Bar is apparent in the book, and frequently served as a backdrop for his law-development efforts abroad." The book is available on Amazon.