Professor David Stout to receive Justice Pamela B. Minzner Award
July 10, 2017 - Tamara Williams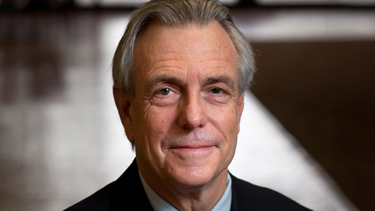 UNM School of Law Professor David Stout ('82) has been selected to receive the Justice Pamela B. Minzner Outstanding Advocacy for Women Award at a reception on Thursday, August 24 at the Albuquerque Country Club.
"Professor Stout is a tireless advocate for women, and particularly women in the legal profession," says Court of Appeals Chief Judge Linda M. Vanzi. "He encourages women not only through their years at the law school, but to aim higher once they are in practice."
Vanzi, who received the Justice Pamela B. Minzner Award in 2010, says that when she first saw the call for nominations in the Bar Bulletin in January, it was clear to her that the most deserving person for the award was Stout.
Please join us to congratulate Professor Stout!
WHAT: Justice Pamela B. Minzner Award Reception
WHERE: The Albuquerque Country Club, 601 Laguna Blvd. SW
WHEN: 5:30 to 7:30 on Thursday, August 24
DETAILS: There is no cost to attend. The Committee on Women and the Legal Profession will provide appetizers and there will be a cash bar.
RSVP: Co-Chairs Laura Castille at LCastille@cuddymccarthy.com or Quiana Salazar-King at Salazar-king@law.unm.edu
"Professor Stout's mentorship and friendship is one of the main reasons that I am a judge," says Vanzi. "Anyone who spends time with him knows that he is a champion for equal rights for all women and that many of us have succeeded because of him."
Stout is the first male to receive the award. He joined the UNM Law School faculty in 2012 following a 28-year career focusing mostly on personal injury and insurance-related cases. Stout teaches in the Legal Analysis and Communication program and, together with Assistant Dean Heather Harrigan, supervises the law school's externship program. He also teaches Legal Ethics.
"I was frankly flummoxed by notice of the award because there are so many others who do much more than I do. I am, however, exceedingly grateful to the Committee for this particular honor because Justice Minzner was an early mentor.  I am also so grateful to have had the benefit in my personal and professional life of strong women who have been mentors, role models, colleagues and partners; a fortuitous circumstance that has continued here at the law school," says Stout. "What little I have done pales in comparison to the work they have done and continued to do. I am inspired by their many examples each and every day."
Vanzi says that Stout not only mentors students individually, "but has made sure to have women attorneys come and speak in his externship and other classes. Outside of law school, Professor Stout has been responsible for putting together countless seminars over the years and he always ensures that there are women presenting at every one of those programs."
UNM Law School Professor Steven K. Homer, Director of the Legal Analysis and Communication program, says the honor is richly deserved. "All of us who are lucky to work closely with David know the depth of his commitment to making justice available to those who are underrepresented," adds Homer.
The Justice Pamela B. Minzner Outstanding Advocacy for Women Award is presented annually to a New Mexico attorney, male or female, who has distinguished themselves by providing legal assistance to women who are underrepresented or underserved or by advocating for causes that will ultimately benefit and/or further the rights of women. The New Mexico State Bar Committee on Women and the Legal Profession presents the award in recognition of Chief Justice Pamela B. Minzner, who is remembered for her integrity, strong principles, and compassion.