From really nervous and excited to less nervous and excited: A first year law student's perception of The Class of 2020 Orientation
September 25, 2017 - Evelyn Ibarra-Ortiz, Class of 2020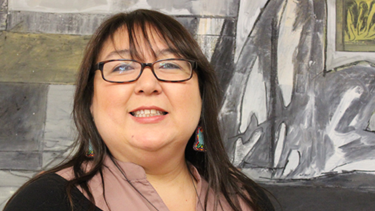 As an incoming student to the School of law, I was excited and a bit nervous about the journey ahead of me. I attended the Class of 2020 Orientation Program in hopes of calming my nerves and gaining some insight that would help me succeed in years to come.
The agenda was filled with presentations and panels, all of which helped alleviate my concerns or questions and those of my peers. As the days progressed, I not only began to feel confident in myself but confident that I had a wide range of people willing to help me and other law students when needed.
On the last day of orientation, Keynote Speaker Tracy Canard Goodluck ('14) shared her experiences as a student and her path after graduation. As she stood in the middle of the classroom looking at us, I could not have imagined how much her story would resonate with me.
Goodluck recently became the new Deputy Director of the Secretary's Indian Water Rights Office (SIWRO) in the Department of Interior. She manages the Washington, D.C. office and works to fulfill the trust responsibility the U.S. government has as it pertains to Indian water rights. Her passion was evident as she explained the journey that eventually led to her current position.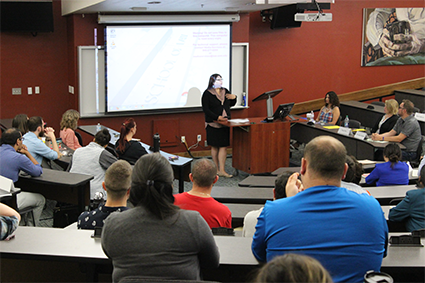 Goodluck generously shared advice to students, reminding us that we were chosen carefully and thoughtfully from among all the applicants. She advised that we lean on each other and take care of one another, reassuring us that we are now part of a community that wants to help us grow.
She reminded all of us sitting anxiously in our chairs to breathe, and that self-care is critical. She explained that law school is a "fast and winding road" but that it is important to take a break and to take care of ourselves.
"Don't be afraid of failure," said Goodluck. "There will be bumps in the road and everyone will experience challenges while in law school – death, divorce, failing a class, etc. Allow yourself to be okay with this and find your healing path."
She also advised us to seek out the support of Student and Career Services and to get to know our professors, who want us to succeed. Goodluck suggested that we stay open to alternative paths, to find our passion, stick to our morals and ethics, to give back when we graduate, and to be grateful.
After Goodluck finished her talk, I no longer felt the stress of the first day of class looming over me. I looked around and saw all the friends I had made during the first two days of orientation. I knew that we would remain friends and we would help ground one another. I looked at the faculty and staff that were present and I felt grateful for having them in my corner. I was no longer uncertain or apprehensive about law school. I knew that I not only had the support of my family and friends but also of the entire law school.