The 28th Annual 28th Wiley A. Branton Awards Luncheon & Issues Symposium to be held at UNM Law October 5-8
September 29, 2017 - Tamara Williams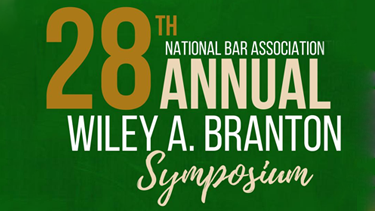 The National Bar Association's 28th Annual 28th Wiley A. Branton Awards Luncheon & Issues Symposium will be held in two parts.
Part 1, titled, "Technology's Impact on Advancing Civil Rights, Social justice and the Practice of Law" will be held on October 5-8 at the UNM School of Law.
Register and learn more about the event.
Part II will take place in Charleston, South Carolina, and is titled, "The Impact of Gun Violence on the African American Community: A Criminal Justice & Public Health Perspective."