ABA appoints Jim Dawdy, Class of 2019, as the only law student on prestigious council
October 11, 2017 - Janine Caller and Tamara Williams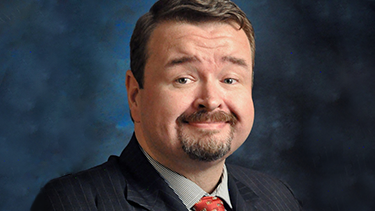 James H. "Jim" Dawdy, class of 2019, was recently appointed by the president of the ABA to the ABA Central European and Eurasian Law Initiative Council of the Rule of Law Initiative (CEELI). Dawdy is the only law student on this prestigious council of attorneys and judges from around the U.S.
The central purpose of the CEELI is to promote ethical and just legal practices through a wide range of programs while supporting and building relationships with in-country partners and legal professionals who can continue the work once the CEELI team has completed its presence.
"Having lived and worked in Eastern Europe and Central Asia, I understand the challenges faced by implementing the Rule of Law in the region, and felt that being involved with the ABA's Rule of Law Initiative was a way to put to use what I am learning at the UNM Law School," says Dawdy. "Most of the countries in the region are slowly transitioning from a legal model that was heavily influenced by the Soviet Union, and the court systems face numerous challenges."
Dawdy's education and background are a perfect fit for his work with CEELI. He graduated from Arizona State University with a BA in History with a concentration on Central Asia and a minor in Philosophy. Prior to law school, he spent eight years living in Kazakhstan, Tajikistan and Romania. Dawdy has worked in Central Asia and Russia on various government and private sector projects, and he has written on the judicial systems of Kazakhstan and Uzbekistan for the newsletter of the ABA Eurasia-Russia Committee of the International Law Section. He also speaks Russian and Esperanto.
Dawdy began with CEELI in September. He plans to provide his expertise in the Central Asian region and has already written articles about the region for the ABA. Dawdy also has connections in the Kazakhstan government, which may benefit the Rule of Law Initiative program. Dawdy says he hopes to use his expertise in Central Asia, as well as his connections and his position on the council to "foster training for lawyers in those countries on use of Internet privacy tools (encryption, secure messaging) to protect human rights workers, lawyers, and clients from monitoring of their confidential communications."