Real ID Free Legal Fair open to the public on November 4 at UNM Law School
October 27, 2017 - Tamara Williams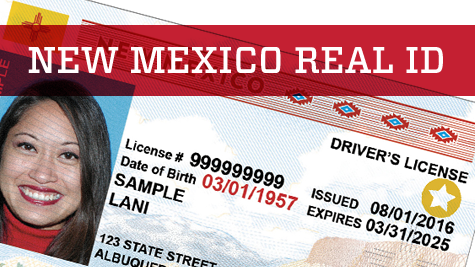 The Real ID requirements that took effect in November are fairly sophisticated to navigate. They may prove challenging for people who are trying to get or renew a driver's license, have questions about a name change, or need advice on changing or getting a delayed birth certificate.
Members of the public who have these issues or others dealing with compliance to the new law are invited to the Real ID Free Legal Fair on Saturday, November 4, 2017 from 10 AM until 2 PM at the UNM Law School. The law school is located at 1117 Stanford NE, and free parking is available in the adjacent L lot.
The New Mexico Legal Aid Volunteer Attorney Program, the Second Judicial District Pro Bono Committee and the UNM School of Law are holding the legal fair, and assistance is being provided by the New Mexico Motor Vehicle Department (MVD) and the New Mexico Bureau of Vital Records and Health Statistics.
The goal of the Fair is to assist people with questions or concerns about Real ID compliance to make the process less intimidating. Judges, attorneys, and UNM Law School faculty will offer information and consultation in a safe and affirming place.
The Fair will provide the following services:
Identify the documents needed for each individual
Review documents brought to the Fair to ensure they meet the requirements
Inform individuals if other documents are needed
Assist in filling out the documents
Provide referrals for legal representation in court if needed
Bilingual attorneys and staff will be available, and people will be handled on a first come, first served basis.
Individuals must bring the documents they have for the Real ID with them to the Fair.
Complete requirements for a Real ID are listed on the MVD website. Individuals are required to provide:
Proof of identification number (such as a social security card, a W-2 form, a pay stub, or a passport)
Proof of identity and age (such as a passport, birth certificate, or permanent resident card); and
Proof of New Mexico residency (an insurance bill dated with 6 months; a current rental property agreement, etc.)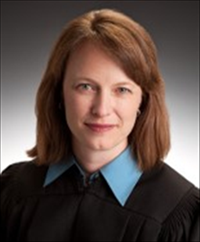 Presiding Civil Court Judge Shannon Bacon of the Second Judicial Court is helping coordinate the Fair. She says that the elderly and Hispanic and Native communities tend to be impacted the most with Real ID issues.
"The elderly who were born at home, not in a hospital, often don't have a birth certificate," says Bacon. "In decades past, Hispanic men and women were often required to Anglicize their names – so that one document could state 'Maria' while the others state 'Marie.'"
Bacon has seen a deluge of applications for people changing their names to comply with Real ID requirements. "In Bernalillo County alone this year, there are 1,384 applications, three times more than last year," says Bacon. "There's an even greater impact statewide. The projected number of name change applications at year-end for New Mexico is over 5,500 cases, and that number will increase until 2020, when a new Real ID-compliant form of identification will be needed."
Bacon says she is pleased that so many members of the legal community will assist those with questions at the Free Legal Fair. She taught a workshop called "Real ID and Name Changes: What Legal Professionals Need to Know" to train volunteers on Friday, October 27 at the law school. Torri Jacobus, the Director of the Second's Center for Self Help and Dispute Resolution, and Shelley Strong from the NM Bureau of Vital Records and Statistics presented along with Bacon.
UNM Law School students are also being trained on Real ID issues and will be helping at the Fair. Jessica Perez, Class of 2018, is leading the first-year and second-year law student volunteers. "The students will be able to see how intakes are done and get a small taste of what it's like to participate in these legal clinics as a future clinic student," says Perez. "They are being trained to know more about the new law and what is necessary to comply with it. They will also help ensure that the event runs smoothly and assist where needed."