Dominic Martinez ('17), Kyle Duffy ('18) and Jannette Mondragon ('18) receive three of UNM Law School's top awards
October 10, 2017 - Anna Baecker and Tamara Williams
Dominic Martinez, ('17) and Kyle Duffy ('18) recently received the law school's top awards for academic excellence, and Jannette Mondragon ('18) was recognized for demonstrating professionalism and ethical conduct.
Martinez was awarded the Daniels Diploma, an annual award honoring graduate and former professor Justice Charles W. Daniels of the New Mexico Supreme Court. It is generally awarded to the person who graduates first in the class.
Duffy received the Salazar Prize for Outstanding Academic Achievement, awarded annually to the student with the highest cumulative grade point average at the conclusion of the second year of law school.
Mondragon was awarded the Justice Pamela B. Minzner Award in Professionalism and Legal Ethics, presented annually to a student entering their third year of law school who demonstrates a promise to confer professionalism and ethical conduct on the legal profession.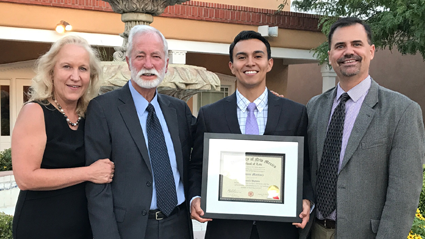 Dominic Martinez awarded the Daniels Diploma
Martinez received the Daniels Diploma at a dinner with Randi McGinn and New Mexico Supreme Court Justice Charles Daniels and UNM Law School Dean Sergio Pareja.
"Dominic is easily one of the smartest and hardest-working law students I've ever taught, said Professor Steven K. Homer. "Given his talent, it's not surprising that he did so well over his law school career. What's particularly gratifying about this is that in addition to being a highly capable law student, he is also a genuinely nice person."
"I first met Justice Daniels when I was in high school and he volunteered his time to help my mock trial team," said Martinez. "I continue to be inspired by him, and I was honored to receive an award in his name. I'm beyond thankful to everyone who helped me along the way."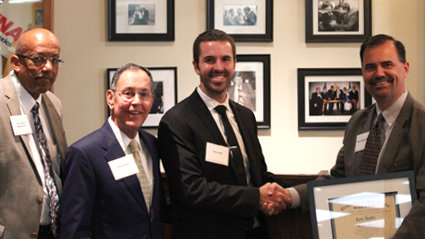 Duffy was awarded the Salazar Prize and Mondragon received the Minzner Award
Professor David Stout ('82') introduced Duffy at a dual reception held in the King Room at the Law Library.
"It came as no great surprise to me that Kyle Duffy was this year's recipient," said Stout. "The academic record Kyle has created through his diligence, hard work, and keen intelligence is extraordinary, but it is the quality of his character that to my mind gives him the distinction that makes him a singularly deserving recipient of the award."
Duffy said that receiving the Salazar Prize, created in memory of Judge Tibo Chavez​, a devoted public servant, is a great honor. "I would like to thank the Salazar and Chavez families for their generosity in creating such an award to inspire future generations of law students at UNM to go above and beyond," said Duffy. "I could not have come this far in my studies without the support of my family, dedicated professors, and my fellow classmates."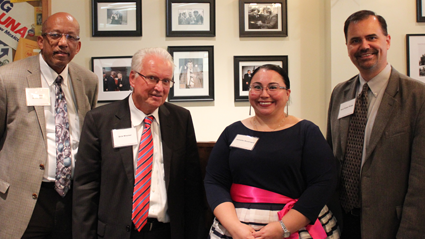 Jannette Mondragon awarded the Justice Pamela B. Minzner Award in Professionalism and Legal Ethics
Professor Marsha Baum, who currently holds the Pamela B. Minzner Chair in Professionalism, introduced Mondragon, who was a student in her class last fall.
"Jannette Mondragon is a shining example of the type of law student who is deserving of the Justice Pamela B. Minzner Award in Professionalism and Ethics," said Baum. "She honors the memory of Justice Minzner in her kindness, her honesty, her integrity, and her grace and dignity."
"In class, Janette seriously considered the rules and their impact, evaluating the underlying assumptions and rationale for rules and testing out the applications. Her commitment to her studies and her desire to contribute to the legal profession was clear in that class as well as in her work as a tutor and as a student in Comparative and Historical Legal Perspectives."
Baum said that Mondragon's ability to not only speak honestly and with conviction, but also with honor, kindness, and consideration for other perspectives "represents the type of professionalism and ethical values that will serve the legal community in New Mexico well."
Mondragon said she is honored and humbled to receive the Justice Minzner Award. "Justice Minzner was an inspirational leader in the legal community and in life," said Mondragon. "I am blessed to be part of the UNM School of Law and will continue to work hard every day to serve my community. I am grateful for the support of my family, professors and others who have guided me along the way."