UNM Law Alumni 2017 Distinguished Achievement Awards Dinner exceeds goals, shows law school spirit, raises nearly $100,000 for scholarships
November 1, 2017 - Tamara Williams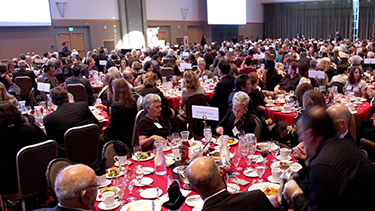 Over 500 enthusiastic guests gathered at the UNM Student Union Building on Friday, October 20 to enjoy the UNM Law School's largest event of the year.
By all counts, the 2017 UNM Law Alumni Association Distinguished Achievement Awards Dinner exceeded goals as well as expectations.  The event also demonstrated just how special the UNM Law School and the law community truly are.
First goal: honor exceptional members of the legal community in a significant way. Check!
The 2017 event paid tribute to Professor Barbara E. Bergman, Director of Advocacy, University of Arizona James E. Rogers College of Law; the Honorable Michael D. Bustamante (Ret.); Professor James W. Ellis, University Distinguished Professor of Law; and Shammara H. Henderson, who received the new Alumni Promise Award.
Videos showcasing each honoree were a highlight of the evening, and there were several standing ovations throughout the evening. Former students and colleagues described each honoree's outstanding work ethic, transformative contributions to the field of law and to the law school, as well as their service to the community.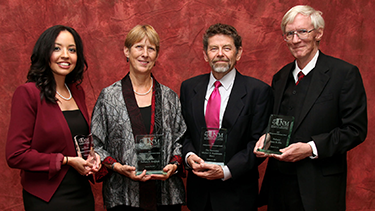 Erin Phillips, Class of 2019, attended the dinner for the first time this year. "The video testimonials were so incredibly moving and personal," said Phillips. "They were such a great way to hear from so many people whose lives were touched by the honorees."
Second goal: raise money for law school programming and scholarships. Check!
The dinner is also a fundraiser, and nearly $100,000 was raised to help fund three full-tuition scholarships and more at the Law School, proving once again how support from the strongly engaged legal community changes lives.
Numerous sponsors made this year's event a very special occasion, and the Law Alumni Association and the law school are very grateful for their generosity.
Third goal: ensure that all attendees have a wonderful time. Check!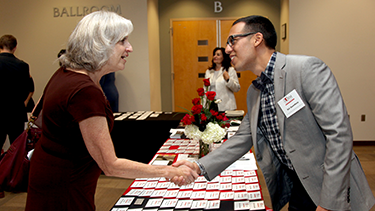 "The energy and positivity in the room were palpable," said Robert Lucero, who chaired the event.
"I have heard nothing but positive feedback from attendees," said Lucero. "A colleague who attended for the first time said she was impressed beyond measure. Several others said that the Alumni Association could not have selected more deserving honorees."
"I was so inspired by the honorees and by those who spoke on their behalf. It became even clearer to me that the UNM Law School is truly a special place," added Phillips.