An old tradition in a new way: A MALSA Matanza
November 27, 2017 - Evelyn Ibarra-Ortiz, Class of 2020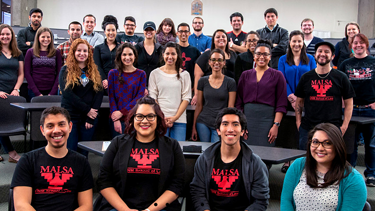 As guests began to arrive, the smell of carnitas and the sound of Spanish music filled the air. Matanza had begun!
Although a matanza usually calls for a pig roast spanning over two days, MALSA's annual matanza takes a different approach. It is more of a laid-back event for past and current Malseros to meet, mingle, and enjoy food and music.
This year, over 100 guests enjoyed this long standing tradition on November 4, 2017. The scene was set by colorful Mexican-style paper flower center pieces, streams of intricately cut papel picado hanging overhead, and a sombrero hanging from the fireplace in the middle of the backyard.
Tables were overflowing with New Mexican favorites such as carnitas, ribs, papas, and red chile from Valencia County chef Steven Otero. His New Mexican matanzas are so famous that they were featured on the Travel Channel show "Bizarre Foods."
Guests began lining up, and with full plates, returned to their tables. The hum of conversation was broken with moments of laughter. As the sun set, a table was removed for dancing. Soon the makeshift dance floor was filled with guest as the speakers pounded with music.
UNM Law professors and students had the opportunity to connect in a nonacademic setting. Among the guests were congressional candidate Damian Lara and mayor elect Tim Keller.
"Community is pillar of New Mexican life, and the MALSA mantanza brought that community to life with amazing food and good friends," said Ariel MacMillan, Class of 2020. "It was a pleasure to attend, the location was beautiful and it felt like a classic New Mexican matanza."