Powerful event, powerful topic: "Indian Blood" attracts an engaged audience to the law school
November 27, 2017 - Tamara Williams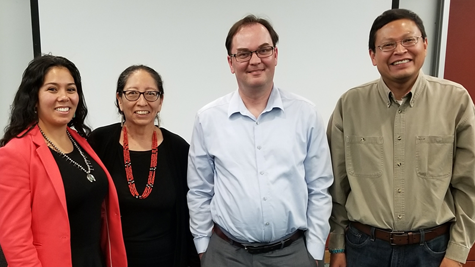 Representatives from the Pueblos of Isleta and Laguna as well as the Navajo Nation joined members of the UNM Law community for a forum titled "Indian Blood" at the law school on November 8.
"Indian Blood" was organized and sponsored by the UNM Native American Law Student Association (NALSA), with assistance by the UNM Law and Indigenous Peoples Program and the Indian Law Section of the State Bar of New Mexico.
Its purpose was to educate the public and create a dialogue about Indian blood quantum-based membership standards and enrollment issues for Pueblo and other tribal peoples.
Associate Dean Christine Zuni Cruz presented the keynote speech on the "Law of Belonging and Relationships," summarizing her groundbreaking research and theorizing with respect to tribal enrollment and indigenous identity issues.
Presentations by a panel of experts on these matters followed, comprised of Paul Spruhan, Assistant Attorney General for the Litigation Unit at the Navajo Nation Department of Justice; Roshanna Toya, Associate Justice of the Pueblo of Isleta Appellate Court and UNM Law School student (Class of 2019); and Lloyd L. Lee, Associate Professor of Native American Studies and the editor of "Navajo Sovereignty: Understandings and Visions of the Diné Peoples."
"The blood quantum event generated a great deal of excitement in the community, and was well-attended," said Professor Barbara Creel. "It is a powerful topic, and a powerful event was organized."
Professor John P. LaVelle, director of the Law and Indigenous Peoples Program, commended the leadership of NALSA for "their vision and initiative in offering stimulating programs that examine important issues of Indian law and policy for the benefit the law school community and the public at large."
Zuni Cruz also congratulated the NALSA Board and membership "for their fine work and the tremendous outreach and support they drew from the Indian Law Section of the State Bar and the Law and Indigenous Program. It is good to see such vibrant collaboration."
Ernestine Chaco, Class of 2019 and president of NALSA, said she is thankful for Professor Zuni Cruz's teachings. "She has taught me that tribal law is powerful, traditional law is powerful," said Chaco. "I am incredibly proud of the NALSA Board and members of the UNM Law community who came together. I hope this event created a space for discussion about this important topic."
The issue of using Indian blood quantum standards in tribal enrollment criteria is among the many issues that will be explored again in a symposium this spring.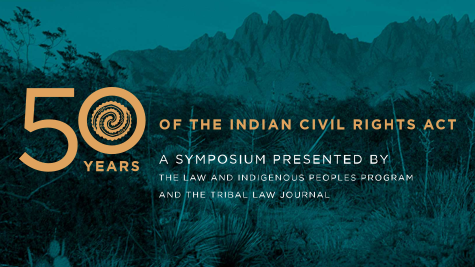 "50 years of the Indian Civil Rights Act," presented by the Law and Indigenous Peoples Program and the UNM Tribal Law Journal, will bring much needed attention to the protection and denial of the civil rights of Native Americans in the fifty years since Congress passed the Indian Civil Rights Act in 1968. The symposium will be held March 8 and 9, 2018 at Isleta Resort & Casino in Albuquerque.