Students learn about public service opportunities to create transformative advocacy in New Mexico
November 27, 2017 - Nicole Sanchez (Class of '19) and James Simermeyer ('14)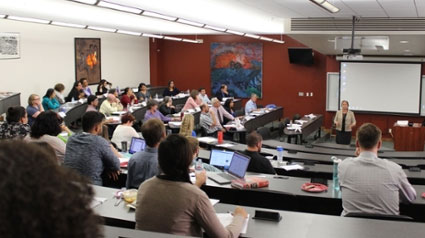 Close to fifty UNM Law School students recently attended a public interest session on a fellowship for transformative social change. They also met with representatives from eighteen non-profit organizations that provide direct legal service, policy advocacy or education to New Mexican children and families in need.
The session is part of the public service and diversity initiatives funded by a generous grant from the WK Kellogg foundation. Five student organizations with missions of public service and diversity co-sponsored the information session, along with Student and Career Services and the Institute of Public Law.
Some students made new connections with non-profits while other students were able to discuss their legal passions with various organizations to hopefully, find a good match.
Applications for the Corrine Wolfe Transformative Advocacy Fellowship are due February 1, 2018
The session highlighted the Corrine Wolfe Transformative Advocacy Fellowship, a post-graduate fellowship providing a salary of $41,000 for graduating law students and recent alumni to work on a two-year project at a New Mexico non-profit. The project must benefit the health and welfare of New Mexico children and families, especially in rural areas, and provide direct legal service, policy advocacy or education.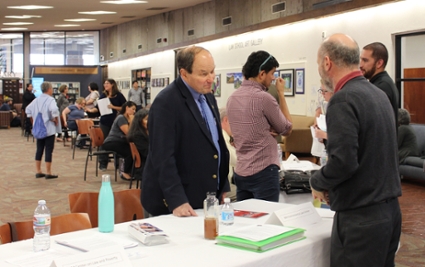 Jesse Clifton (Class of '18) said that the fellowship allows public-interest minded students to have an impactful and meaningful introduction to their careers. "For two years, fellows are afforded the opportunity to pursue their passions in fighting racial inequality and improving the futures of New Mexico's underserved, low income children," said Clifton. "It's hard to imagine a state that would benefit more from combating these issues than our own."
Deshawnda Chaparro (Class of '18) said the fellowship is important for the rural, immigrant work that she hopes to do as my career. "There are plenty of resources for immigrant families in Santa Fe, Albuquerque, and Las Cruces, but outside of those urban areas, immigrants have little access to immigration counseling and direct representation," said Chaparro. "This Fellowship would allow me the opportunity to gain invaluable experience in the field I want to work in while also assisting New Mexican families to stay together." The fellowship is designed to build and strengthen a pipeline of law students to pursue careers in public interest and diversify the profession. Applications are due February 1, 2018.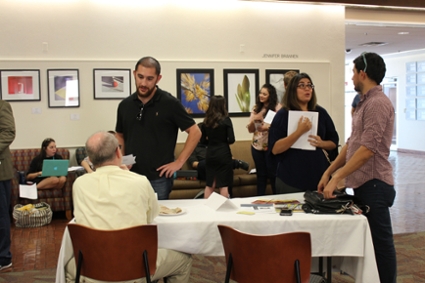 Currently several non-profits have project proposal ideas on the UNM School of Law electronic jobs board, called Connect. Disability Rights New Mexico, DNA People's Legal Services, NM Appleseed, NM Center on Law and Poverty, New Mexico Legal Aid, NM Legal Aid Native American Program and Southwest Women's Law Center have all proposed project ideas.
These proposals are meant to start a conversation with interested fellowship applicants, so the collaboration process can begin earlier resulting in stronger and more effective programs. The project proposals can all be accessed by students and alumni on Connect HERE