Social Justice Lunchbox Speaker describes the Effects of Adverse Childhood Events
November 14, 2017 - Cristen Conley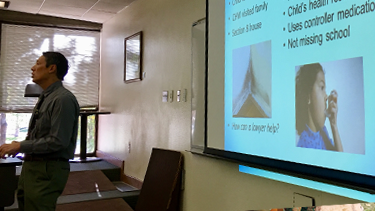 Dr. Andrew Hsi of the Institute for Health, Resilience, and Justice at the UNM Health Sciences Center spoke during a Social Justice Lunchbox event on November 8th about the deleterious life-long effects of Adverse Childhood Events (ACEs) and other health harming legal needs.
Some of the health needs that can be addressed by legal intervention include: food insecurity, unemployment, discrimination, poor housing or homelessness, family violence, and environmental threats.  An example given was that of a child with poorly controlled asthma who had proper medication administered properly, but who was wheezing more at home.  Upon a home visit by child health workers black mold was discovered in the Section 8 housing.  Hsi described how an attorney in this circumstance could advocate for the family to be moved to a healthier home without loss of benefits, thus resolving the acuity of the child's asthma.
Hsi went on to introduce the study conducted by Kaiser Permanente that tracked adverse childhood events (ACEs) and their later effects on the adults responding to a lengthy questionnaire.  The events tracked ran from inappropriate sexual contact of the participants as children, to psychological abuse, to violent treatment of the mother.  The study discovered a correlation between these ACEs and "the development of health risk behaviors and disease," culminating in as much as a 15-year shortening of the life span

Law student and member of the Student Health Law Association, Oksana Vivchar, said, after hearing about the poor outcomes for children in New Mexico, "I was surprised by the early use of drugs and alcohol in our state."  Hsi informed the audience that a very high number of regular users of alcohol and cigarettes here started at the age of 10 to 11 years old.  New Mexico also has the 5th highest rate of teen pregnancy in the nation.
The Social Justice Lunchbox series is designed to introduce and explore a broad range of Social Justice issues. It is funded by a grant from the W.K. Kellogg Foundation to help improve outcomes for New Mexico's most vulnerable children and families, and open to UNM Law Students as well as members of the public
The next program will be presented on Environmental Justice by attorneys from the New Mexico Environmental Law Center, on January 17, 2018 at noon in room 2405.
Snacks and water are provided and attendees are invited to bring their lunch.