Students receive award from prominent New Mexico firm to attend health law conference
May 1, 2018 - Liliana Benitez De Luna (Class of '18)
Prominent New Mexico-based law firm Montgomery & Andrews builds stepping stones for University of New Mexico School of Law students through a generous award. The Montgomery & Andrews Health Law (MAHL) Award provides selected UNM law students with the opportunity to attend the American Bar Association's (ABA) Health Law Section's Emerging Issues in Healthcare Law conference on February 21-24. This year, the conference was held in Scottsdale, Arizona. The conference presented UNM School of Law students Lenaya Montoya (Class of '18), and Joshua Hasyniec (Class of '19) with the opportunity to interact with health law professionals from across the country.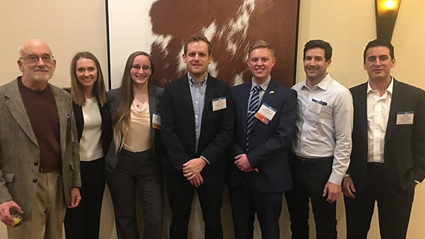 "This [award] is a way to spread the word about health law and the great practice that it is. It is a way to give law students who are contemplating health law an opportunity to see what this career is like and to meet the people in this field," stated David Johnson of the Montgomery & Andrews firm. "We hope that attending this conference inspires students to stay in New Mexico and perhaps practice health law in New Mexico."
The Montgomery & Andrews Health Law Award enabled UNM Law students to further their future careers. The award accomplished this by providing funding for conference registration fees, airfare, hotel, meals, and transportation. Students and Montgomery & Andrews attorneys attended the three-day event and took advantage of CLE sessions on health law topics and many networking opportunities.
"My favorite presentation from the conference was the Opioid Crisis: How Practitioners Can Balance their Legal, Ethical and Duty Obligations, it was a great discussion between attorneys, doctors and pharmacists on what we can do as a legal community to decrease the use of opioids in the U.S.," stated Montoya about her specific interest in the CLE. She and the other students expressed how extremely thankful they were to Montgomery & Andrews for the opportunity to attend.
The conference was an experience that benefitted UNM law students and the firm's attorneys, because they were able to bond and network over a common interest of health law.
"This award benefits our Firm because it is an opportunity to interact with law students who will comprise the next generation of health lawyers in New Mexico. These students will be our colleagues in the Bar, and some may even be our colleagues at the Firm," stated Stefan Chacón of the Montgomery & Andrews firm.
The award also sets an amazing example for other law schools and legal employers at the national level. Johnson witnessed the impact that this award is having across the country, and it is a proud accomplishment for him and the firm. Johnson knows of at least one other law school that is following this model by providing similar opportunities to its students. Word got around of the Montgomery & Andrews Health Law Award, because the ABA's Health Law Section Executive Director, Simeon Carson, indicated that this award model is one that the ABA wishes to promote in order to encourage other firms to contribute to the legal community. Montgomery & Andrews believes this award is one of the best ways to benefit the legal community and the law school through its students. For Johnson, the award is one way he can give back to the law school community for all that it has given him.